5 Innovative Strategies to Tackle the Last Mile Problem in Delivery and Logistics
Blog
By Komal Puri | October 13, 2022
The logistics industry is flourishing and increasing demand for a faster and effective service has made last-mile delivery one of the most crucial parts of supply chain management. Last-mile delivery refers to the process of transporting goods and products from the warehouse to the customer's address.
What is the last mile problem?
The main objective of last mile logistics is to deliver the package to the customer as soon as possible. The last mile problem lies in the fact that while customers want deliveries to be free and fast, last mile also is the most expensive and time-consuming part of the supply chain process amounting up to 53% of total shipping costs. Every added inefficiency in the last mile process drives the cost of deliveries higher.
Key Problems in the Last Mile:
Cost of last-mile deliveries
Lack of transparency
Poor granular tracking
Failed deliveries
Inefficient routing and lack of route optimization
Unpredictability in transit
Lack of proper delivery infrastructure
Outdated delivery tools and technologies
How COVID-19 Made the Last-mile Delivery Problem More Complex
The COVID-19 pandemic resulted in an increased e-commerce buying and customers' need for businesses to execute deliveries as fast as possible, making the challenges in the last leg of delivery more potent. When social distancing became the norm, the preference for a contactless delivery system increased.

Businesses, while adhering to hygienic guidelines and sanitization procedures also had to take additional precautionary measures such as keeping track of the body temperature of staff to keep customers happy and loyal. With the chances of getting infected by the virus from cash transactions being high, contactless payment methods had to be adapted. The pandemic forced businesses to revamp their delivery operations to cater to the new demands of customers.
How do communication issues result in poor decision-making in the last mile?
The majority of last-mile problems arise due to miscommunication between the various delivery stakeholders. Businesses use 3PLs and carriers' physical infrastructure like warehouses or transport systems to enhance their service quality without having to invest in or purchase them. Issues arise when warehouse managers have difficulty in maintaining proper inventory which results in shipping and delivery delays.

Logistics challenges can be addressed by businesses by implementing a platform that is able to provide real-time information. For example, if a route is facing traffic issues, the vehicle can be immediately re-routed to avoid delays. The platform's business intelligence tools will aid businesses to analyze data and track their performance based on parameters like delivery journey time, order completion, transportation costs, and customer satisfaction. These platforms can be customized to access various other platforms like inventory or last-mile delivery tracking systems and present all information in a single dashboard in real-time.
5 Ways to Address Last-mile Problems in the Supply Chain
1. Improve customer-warehouse proximity
The last distribution center or warehouse should ideally be located nearer to consumers. This saves money in the long-run and also helps to minimize delivery times, cost, and fuel usage. Warehouse proximity to regions where the bulk of orders arise, would reduce the last-mile problem and can also be used as a pick-up or drop facility for customers. This also increases the return on investment (ROI) of warehouse operations by making inventory management seamless and less time-consuming.
2. Invest in technology for delivery optimization
New technologies can enable process improvements with their capabilities to analyze real-time information, leading to better decision-making. These technologies integrate machine learning and artificial intelligence (AI) based solutions for route navigation and driver allotment, enabling businesses to boost potential ROI, save on total operational costs, reduce the time spent on the supply cycle, and plan highly efficient routes for multiple addresses in one go.
3. Optimize delivery vehicle routes and dynamic vehicle routing
Route planning can cut down delivery times dramatically. Software can schedule routes automatically based on past routes while taking into account parameters like time, location, vehicle capacity, and traffic to recommend the most efficient routes.
Any updates on traffic that could affect timelines can be communicated to the delivery driver in real-time, thus making dynamic routing of the fleet possible.
4. Communicate with customers in real-time
Modern consumers demand flexible deliveries as they are not always at home to receive their orders. Consumers need to be informed with regular notifications throughout the shipping process about what's happening with their package. This not only benefits the consumer but the driver too as it ensures customer availability at the time of delivery.
5. Implement an effective real-time delivery tracking system
Real-time delivery tracking helps companies and consumers to keep track of the status of the package until it reaches the final destination. Tracking allows companies to share updates on deliveries in real-time.
Problems like missed schedules, issues in route optimization, lack of proof of delivery, inability to support contactless payments can affect customer experience and business. The biggest challenges that threaten logistics operations can be solved by implementing an advanced solution to streamline the operations and make them work to maximum efficiency.
How to improve last mile experience by solving last mile problem?
Solving the last mile problem can have significant benefits for improving the last mile experience, which is the final step in the delivery process that directly impacts the customer.
Here are some ways in which solving the last mile problem can improve the last mile experience:
Faster Delivery: By optimizing routes and reducing delivery times, solving the last mile problem can result in faster and more reliable deliveries. Customers are more likely to be satisfied with their delivery experience if they receive their orders in a timely manner.
More Convenient Delivery: With solutions such as same-day or on-demand delivery, solving the last mile problem can offer customers greater flexibility and convenience. This can result in a more positive experience for customers who value convenience and are willing to pay for it.
Better Communication: Solving the last mile problem often involves improving communication between the customer and the delivery provider. This can result in better communication about delivery times, tracking updates, and any issues that may arise. Improved communication can help to build trust and confidence in the delivery process.
Reduced Costs: Solving the last mile problem can result in reduced delivery costs, which can be passed on to customers in the form of lower prices or free shipping. This can improve the overall value proposition for customers, making the last mile experience more appealing.
Increased Sustainability: By optimizing routes and reducing unnecessary emissions and energy usage, solving the last mile problem can help to reduce the environmental impact of delivery operations. This can be appealing to customers who are environmentally conscious and may be more likely to choose a delivery provider that prioritizes sustainability.
Top 10 Benefits of a Last-mile Solution
1. Faster and same-day deliveries

With customers preferring delivery windows of same-day or within a few hours, the last-mile solution makes this possible through prioritizing, scheduling, and auto-allocation of packages. The solution also allows companies to change the time or location of deliveries, and handle cancellations or returns using this solution.
2. Improve margins and delivery profitability
Such a solution brings a collection of analytical tools that analyzes the data in real-time. It guides businesses to understand their weak points and areas for improvement. These analytics would help to improve profit margins and achieve profitability. Such a solution also improves margins by reducing delivery turnaround times, fuel consumption, labor costs, and operational expenses.
3. End-to-end visibility of delivery operations
An advanced solution like this helps to capture dispatch information in real-time and makes it accessible to stakeholders and customers through cloud-based data repositories, data processing systems, notifications, and alerts. This results in operations being able to update customers on the movement of their ordered goods.
4. Enhanced customer experience
The last-mile delivery solution provides tools to update customers with real-time status updates of their shipments. These updates can be sent via email, SMS, WhatsApp, in-app notifications, or a phone call to inform customers of any delays in delivery or cancellations. Being able to communicate effectively with customers can lead to increased customer satisfaction. An advanced logistics platform can add alternate delivery locations for a customer on the fly, especially in case of incorrect address instances or remote locations, to ensure better delivery success rates.
5. Automatic route planning
Such a solution provides automatic route planning for any number of shipments based on the customer's preferred delivery time windows, a maximum number of deliverable points, and shortest routes to save on fuel costs. It helps to calculate the best possible route for maximum delivery points by taking real-time troubles like traffic or weather conditions into consideration.
6. Smaller carbon footprint
Empty miles and fuel costs can be reduced by implementing effective route planning and auto-scheduling. Usage of electric or battery-operated vehicles and bikes to cover the last-mile logistics also helps businesses generate a smaller carbon footprint.
7. Greater delivery productivity
Auto-scheduling and route optimization help to lessen the loading time and stop instances between halts in routes. This enables businesses to achieve greater delivery productivity. Advanced geo-locating tools also help businesses enhance address accuracy and drastically reduce numerous delivery attempts or increase first-attempt delivery success.
8. Seamless reverse logistics
Reverse logistics deals with returned goods from customers. A last-mile delivery platform provides customers with the opportunity to seamlessly return orders and boosts consumer satisfaction.
9. Scaling delivery operations
A last-mile delivery platform helps to make crowdsourcing logistics possible. The right tools can enable businesses to quickly recruit services of temporary drivers and also take care of routine tasks like driver registration and assessment. The solution will manage rosters, monitor driver location and progress and schedule breaks thus allowing businesses to scale operations.
10. Better control of 3PL operations
Logistics providers and 3PLs can improve efficiency by utilizing a last-mile platform that can automate and speed up their logistics processes. The platform promotes adaptability and scalability, allowing businesses to grow efficiently and modify services to best support last-mile carrier operations.
Last-mile delivery is and will be the most complex final leg of the supply chain process. Businesses need to invest in a last-mile solution that will ensure to keep customers happy and promote the long-term success of the business. Rapidly evolving technology is paving the way for businesses to optimize their last-mile delivery processes and be more cost-effective.
How FarEye Addresses the Challenges that Arise in the Last Mile
FarEye is a last-mile delivery management platform that helps to keep costs under check providing a range of operations like delivery scheduling, task allocation, routing, and tracing. FarEye's last-mile platform empowers enterprises with the following capabilities:

Fully customizable solution
Automatic order allocation
Automatic dispatching
Chatbot-based customer support
Real-time dynamic routing
Flexible delivery scheduling
Customer live delivery tracking app
Electronic proof of delivery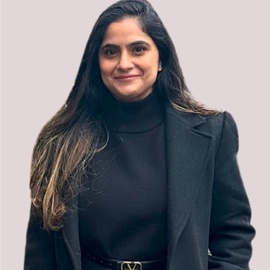 Komal Puri is a seasoned professional in the logistics and supply chain industry. As the Senior Director of Marketing and a subject matter expert at FarEye, she has been instrumental in shaping the industry narrative for the past decade. Her expertise and insights have earned her numerous awards and recognition. Komal's writings reflect her deep understanding of the industry, offering valuable insights and thought leadership.
Komal Puri
Sr. Director of Marketing | FarEye
Related resources
Zalora's Transformation with FarEye for Last-Mile Delivery
Download
Maximizing Black Friday Success: The Critical Role of Scalable and Sustainable Delivery Solutions
Read more
What is Carbon Neutral Shipping? A Comprehensive Guide
Read more