Our Culture
At FarEye, we are consumer-centric problem solvers. Our teams work hard to make last-mile deliveries better for our customers and their customers. Our culture is what drives our innovation, our sense of fulfilment and our purpose. Here's how. 
Our founding philosophy
At the core of FarEye's founding philosophy lies the idea of nurturing employees as 'intrapreneurs' where new ideas and innovations across all levels of the company are valued, encouraged and supported.
We believe your ideas could become the next product innovations at FarEye! We wake up every day with a beginner's mindset, passionate about problem-solving and customer satisfaction. Collaboration keeps us going and camaraderie keeps us smiling.
Our values
Customer First
Customers are our priority, with a focus on building trust and driving value
Empathy
We value and respect each other's feedback, perspectives and differences
Innovation
We are passionate about simplifying logistics, and building products that solve problems and reduce complexity
Collaboration
We respectfully challenge, act with empathy, and collaborate cross-functionally with our teams, partners, and customers
Accountability
We always do what is right for the company, have the courage to make agile decisions, and hold ownership of the outcomes and results
Learning
We hold a beginner's mindset, as there is always more to learn, especially in a dynamic logistics environment
Wellness at FarEye
We are committed to employee wellness to ensure everyone's health, quality of life, mental well-being and work life are balanced. The FarEye Employee Wellness Plan (FEWP) is a comprehensive wellness umbrella which constitutes all aspects of wellness including mental, physical, social, financial and emotional wellness.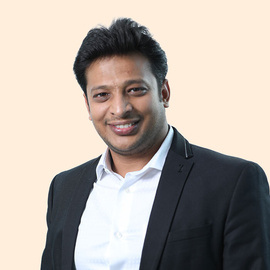 "Our people are our greatest asset and their hard work and dedication have enabled us to grow rapidly. Through our team's talent and perseverance, we have been named a 'Great Place to Work' for the third time in a row and we are dedicated to cultivating the same healthy, supportive environment as we plan to expand our team further."
Kushal Nahata,
CEO & Co-founder, FarEye
Our growth
From our founding in 2013, with 35 employees and 10 customers, FarEye has seen hyper-growth throughout the last nine years. Today, FarEye has 150+ customers, 800+ employees, and total funding at $150 million.
Join our team
At FarEye, you'll experience the excitement of a fast-growing company helping brands grow customer loyalty through superior delivery experiences. You'll have the opportunity for career growth working in a dynamic, critical aspect of logistics - the last mile.
We're looking for the dreamers, the thinkers, the doers that want to advance their careers in a collaborative, fun, innovative environment. Explore our open positions.

Learn more