11 last-mile delivery KPIs to measure the success of last-mile logistics
Blog
By Komal Puri | October 13, 2022
The emergence and proliferation of multiple e-commerce channels have brought about a significant transformation in the global logistics industry.
Logistics service providers are no longer dependent on older methods of paper-based documentation, manual data inputs or telephonic cargo tracking. Instead, they have started harnessing the power of digital technology to create flexible workflows, improve supply chain productivity, establish competitive differentiation and enhance operational efficiency.
As a result, the value of the logistics market, internationally, has already breached the mark of $5.5 trillion, and it is expected to rise by almost 7% by the end of 2022!
To consolidate such crucial upswings, logistics companies across the world have begun to measure their performance in terms of cost, accuracy, utilization, and timeliness. Doing so hasn't just helped them obtain an objective picture of their overall logistical operations, it has also enabled them to minimize expenses, reduce errors, fix accountability, gain visibility to strengthen last-mile delivery.
11 Chief Last-mile Delivery KPIs & Metrics to Track Your Strategic Successes
1. Order accuracy

Before your orders are shipped, you need to verify whether the packed order meets the specifications of the actual customer demand. If it doesn't, you end up exposing yourself to a plethora of unnecessary grievances and disputes. Such order accuracy can be measured by dividing the total number of shipped orders by deliveries that have occurred without complaints.
2. Fuel consumption rate (FTR)
In intermodal transport, calculating the total amount of fuel consumption can often prove to be a tough job. This is because there is no precise way to find out how much fuel is saved or wasted on a particular day. However, the FTR formula instantly allows you to decipher interval-based consumption costs. All you have to do is compute an average of fuel prices, per vehicle, per route.
3. Average service time (AST)
Average service time (AST) is essentially the total amount of time that is spent in fulfilling a single order. It primarily consists of the time taken between picking up a good from the warehouse, completing all pre-shipping documentation and delivering the goods at the customer's doorstep. It can be calculated by dividing the time taken at the store by the number of deliveries to be made.
4. Damage claims
Despite the best of precautions, the goods in transit can sometimes be damaged. This can cause a financial loss to the company while also leading to a long-term credibility crisis. By computing damage claims as a KPI, you can easily prevent this from happening. Damage claims can be calculated by dividing the total number of claims received by the number of shipments sent.
5. Time of delivery
In last-mile logistics, the time of delivery is considered to be one of the most critical KPIs. This is because the final delivery time gives you a broader view of the operational efficiency and effectiveness of your entire delivery strategy. As a metric, the time of delivery can be worked out by averaging the total time taken to complete every order, within the span of a single day.
6. Total Mileage
Every time an order is dispatched, a plan concerning its expected last-mile mileage is made. However, the actual mileage of the order may not subscribe to this plan. By drawing a comparison between your planned mileage and the order's actual mileage, you can comfortably find out whether there are any problems in route planning, detouring or delivery schedules.

7. Cost per mile
The cost that a company has to bear in executing an order per mile, per vehicle, is a KPI that needs to be calculated daily. To do so, the total number of shipments sent via a given route at a specific time and a certain price, have to be averaged. This average reveals the exact cost that a logistics enterprise incurs, to fulfill its last-mile obligations.
8. Capacity utilization
Capacity utilization can easily be calculated by dividing the available capacity of a vehicle by its total carrying capacity. If the available capacity is greater than the carrying capacity, it indicates that the company's routing procedures are below par. But if the carrying capacity turns out to be higher than the available capacity, the company's stocking and loading processes need to be redrafted.
9. Unnecessary stoppages
Touted as one of the most straightforward last-mile metrics, stoppages means tracking the total number of stops that a vehicle makes while delivering a batch of orders. A high stoppage KPI can significantly escalate your overall fuel costs while also bogging down your optimization practices. A low stoppage KPI, on the other hand, can indicate streamlined, efficient & quick last-mile operations.
10. Hours in motion
No matter what your mode of last-mile transport, the vehicle in question tends to remain both in motion and stationary for long periods. If you calculate the number of hours for which it is driving a particular route and divide it by the number of hours for which it is lying stationary, you can figure out the overall performance levels of your shipment delivery.
11. Complaint details
Last but not least, complaint details can serve as a good KPI to compute your delivery efficiency and customer experience. You are just required to divide the total number of complaints received by the total number of deliveries made, and the result obtained would help you understand how your last-mile strategies are faring at the ground level.
Whether you are involved with trucking, shipments, aircraft or any other mode of transportation, the aforementioned key performance indicators (KPIs) allow you to understand last-mile logistics like never before! Computing these KPIs for your entire supply chain further empowers you to devise collaborative solutions, integrate operational workflows and provide customer-centric services.
However, this is just the tip of the iceberg! In the future, these KPIs, when coupled with predictive visibility, machine learning, artificial intelligence (AI) and real-time intelligence are a potent combination. Together, these technologies can work wonders to execute, track and optimize various intermodal movements, so that goods and services can be delivered right at the customer's doorstep, within the shortest possible time.
Last-mile delivery software can be of immense help in measuring and capturing these KPIs.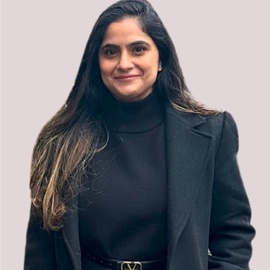 Komal Puri is a seasoned professional in the logistics and supply chain industry. As the Senior Director of Marketing and a subject matter expert at FarEye, she has been instrumental in shaping the industry narrative for the past decade. Her expertise and insights have earned her numerous awards and recognition. Komal's writings reflect her deep understanding of the industry, offering valuable insights and thought leadership.
Komal Puri
Sr. Director of Marketing | FarEye
Related resources
Zalora's Transformation with FarEye for Last-Mile Delivery
Download
Maximizing Black Friday Success: The Critical Role of Scalable and Sustainable Delivery Solutions
Read more
What is Carbon Neutral Shipping? A Comprehensive Guide
Read more