7 emerging food delivery trends to look out for
Blog
By Komal Puri | October 13, 2022
Food delivery trends are evolving quickly. But, let's quickly take a breather and go back in time before plunging into the nuances of these new trends. Would you believe us if we told you that the concept of having a quick hot ready-to-eat meal on the go dates back to the city of Pompeii. Yes, that's right. Ancient Romans simply loved convenient meals. They used to call their fast-food outlets 'Thermopolium'. At these Thermopoliums, hot food was served in large clay pots. But 'convenience' with regards to the food delivery industry took a very different form with doorstep delivery of one of the world's most popular beverage--milk.
When rampant industrialization enveloped the United States, access to or owning a dairy cow became difficult. Hence, the country started delivering milk bottles to its citizens directly at their doorstep. This was not an easy task. Refrigeration back in the day was an extremely expensive proposition and milk is prone to perishing, therefore home delivery of milk to thousands of American households became a daily activity. Another early reference to food delivery would be India's Dabbawalas. When the city of Mumbai became a hub of employment in 1890s, the responsibility of delivering hot meals to a huge population of hardworking individuals fell upon the shoulders of the brave Dabbawalas. No matter the weather, they made it sure to deliver food. From planning routes to multi-drop deliveries, Dabbawals did it all by themselves.
The evolution of the food delivery industry is a testament to technological progress and one of the major reason behind fast-evolving food delivery trends.. From traditional milk runs and Dabbalawals to pizzas being delivered by drones, the food delivery industry came a long, long way.

7 Emerging Food Delivery Trends to Watch
1. Drone food delivery
This food delivery trend is picking up gradually but challenges are many. Uber Eats, Domino's, Zomato among others have been successfully testing deliveries via drones. There are challenges. There is a limit to a drone's capacity, as it can't really travel far and its battery life is short-lived. Nonetheless, savvy food delivery chains like Domino's have already delivered pizza leveraging drones. In a hyperlocal environment, once drone technology evolves into a more sustainable process, which we are sure it will, it's popularity will surge. Food delivery by drones has the potential to shrink delivery costs in the guise of reduced manual intervention and lower fuel consumption.
2. Autonomous food delivery
This one even topped the charts of food delivery trend 2020. Autonomous deliveries, sounds like something that we can only experience in a Sci-fi movie right? Forget Sci-fi, residents of London are actually getting used to food deliveries executed by robots. According to slate.com residents of Milton Keynes send Starship Technologies robots to fetch groceries. In Virginia, students of George Mason University can send these same robots to pick up meals from restaurants and food outlets surrounding the campus. Hungry folks in Berkeley, California, and Denver can order food through the Kiwibot. So, it's already happening. Much like drone deliveries, once these autonomous deliveries become sustainable, cost-wise, the next thing you know a small robot is ringing your doorbell.
3. Contactless food delivery
This is a food delivery trend that emerged during the pandemic. As the COVID-19 pandemic wreaks havoc across the world, social distancing will continue to be a well-established way of life. The good old fist bumps with the pizza delivery guy is not going to happen anytime soon. Keeping in mind the safety of customers and delivery executives, food outlets are leveraging advanced food delivery platforms to drive seamless contactless deliveries.
So what does a contactless delivery entail? Delivery executives leverage advanced food delivery platforms to send a picture of the order being placed outside the door to the customer. The customer receives the order and pays through secure digital payment gateways. Also, critical information about a delivery executive's body temperature is shared with customers along with a timestamp to ensure 100% delivery visibility.
4. The eco-friendly food delivery trend
As the demand for online food delivery increases, the world will witness more vehicles on the road. That means a sharp increase in carbon emissions generated by the logistics industry. But we cannot let that happen. There is a need to strike a balance between scaling home deliveries and putting out more vehicles on the road. Especially at a time when consumers are gradually starting to favor brands that display responsibility towards improving the environment quality. A study highlighted that consumers would continue to reward brands that uphold public commitments to sustainability, with 31% of Americans listing sustainability among the top two attributes most helpful in building brand trust. As much as three in five adults (61%) say they would be willing to pay more for food products packaged in sustainable materials. Moving forward, it will not be surprising to see customers demanding for deliveries that ensure lesser carbon emissions.
5. Crowdsourcing food deliveries
Demand fluctuations in the online food delivery tend to be unpredictable and severe. Hence, it becomes difficult to manage delivery executives and chalk out strategies that boost delivery profitability. Savvy food joints are leveraging crowdsourcing applications to meet flexible food delivery demands, especially so because of the ongoing pandemic. Crowdsourcing empowers food outlets to outsource deliveries to temporary and party time delivery executives based on costs, productivity, proximity to customers and more. Crowdsourcing is gradually becoming a smart way to ensure delivery scalability and optimize costs.
6. Food delivery from cloud kitchens
So, the skies are so happy with us it's sending down food. Oh! How we wish that was true. Cloud or virtual kitchens are increasingly gaining momentum in the food delivery industry. So what are cloud or virtual kitchens? These are mainly restaurant kitchens that only accept orders that come through online food ordering/delivery channels. One cannot sit or dine-in in these facilities. Owing to low real-estate costs and a niche yet lucrative customer base, these facilities are becoming extremely common across countries. To ensure businesses can reap the most out this type of food service they need a robust food delivery platform.
7. Hyperlocal food delivery
Hyperlocal food deliveries can be categorized as deliveries that are executed within a neighborhood, like a particular block in a city, from a local restaurant. But hyperlocal deliveries can get challenging owing to the pace at which it needs to be executed and also scale. Sophisticated hyperlocal food delivery tools allow business to reduce delivery turn-around-time and generate quick routes that drive multiple pickups and drops. This boosts delivery profitability and enhances customer loyalty.
FarEye is empowering restaurants and food outlets across the globe to build future ready delivery services.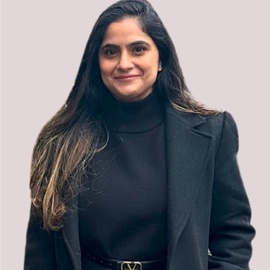 Komal Puri is a seasoned professional in the logistics and supply chain industry. As the Senior Director of Marketing and a subject matter expert at FarEye, she has been instrumental in shaping the industry narrative for the past decade. Her expertise and insights have earned her numerous awards and recognition. Komal's writings reflect her deep understanding of the industry, offering valuable insights and thought leadership.
Komal Puri
Sr. Director of Marketing | FarEye
Related resources
Zalora's Transformation with FarEye for Last-Mile Delivery
Download
Maximizing Black Friday Success: The Critical Role of Scalable and Sustainable Delivery Solutions
Read more
What is Carbon Neutral Shipping? A Comprehensive Guide
Read more