The growth of the food delivery industry and how to get the biggest share of the pie
Blog
By Komal Puri | October 13, 2022
Thanks to a variety of food delivery apps, you can now get your favorite burger delivered to your doorstep from your choice of restaurants nearby. Online food delivery platforms are expanding choice and convenience along with great deals and discounts, allowing customers to order from a wide array of restaurants with a single tap on their mobile phone. As a result, the food delivery business is fast catching up across markets in America, Asia, Europe, and the Middle East.
According to the Online Food Delivery Services Global Market Report 2020-30, the global online food delivery services market is expected to grow from USD111.32 billion in 2020 at a growth rate of 3.61%. However, 2020's growth slumped worldwide due to unforeseen health issues. The market is still expected to grow and reach USD154.34 billion in 2023 at CAGR of 11.51%.
The food delivery market in the U.S. is mainly driven by a hectic work schedule and high-income levels of professionals who lack time to prepare their meals at home. As per Statista, online food delivery segment's revenue is projected to reach USD 28.48 billion in 2021 with an annual growth rate of 4.3% (CAGR 2021-2024). At a global level, China will generate almost USD 56.93 billion in revenue, that almost double that of the U.S.
What is a food delivery service and how does it work?
Food delivery has now become an integral part of the urban lifestyle. And that's why delivery agents can be seen throughout the day riding their bikes, carrying the orders, sporting their company T-shirt and a hat. It is observed that one-third of Americans order food online at least twice a week.
Food delivery service is somewhat similar to courier service in which the ordered food is delivered from the restaurant to the customer either by the restaurant's staff or by delivery agents of a food ordering company. This obviously depends on the medium through which a customer places their order. Orders can be placed over a call, mobile apps and through web-portals of a restaurant directly, or through restaurant aggregator apps. Often a flat delivery fee is charged to the customer and at times even that is waived off, depending on the order volume. Food delivery service might also include delivering groceries from the supermarket. Technological interventions have further made food delivery services prompt and quick, keeping customers happy and loyal.
Food delivery businesses follow several models, which vary from company to company. But the priority is to deliver freshly prepared food quickly and safely. Below are a few popular models of food delivery services currently in practice.
1. Platform to Customer Model
In this model, third-party apps create a list of available restaurants in close proximity to the customer's location. Customers are free to order from these partner restaurants and get the food delivered either by the restaurant or a delivery agent of the platform. Apps such as DoorDash, UberEats, and Deliveroo are perfect examples that follow this delivery model. Generally, these platforms take a 20-30% cut from the order value on the top potential delivery cost that may arise. This mode of food delivery business accounts for almost half of the $122 billion that is generated in sales per year.

2. Aggregators
A delivery service aggregator acts as an intermediary between a customer and several local r estaurants. Additionally, they offer customer support on behalf of the restaurants in case there's an issue with the delivery or the order. JustEat, Delivery Hero, and GrubHub are some of the existing players. These platforms charge a fixed fee on every successful transaction facilitated or even prompts for a monthly subscription.

3. Full-stack Model
In this scenario, the food delivery business does everything all by themselves. Right from developing the app to hiring delivery staff and cooking the food in-house, every operation is carried out in house. However, this model needs substantial investments to launch the platform. Once sufficient scale is achieved, full-stack food delivery platforms eventually earn more as they control the whole value chain. They can control the food quality as everything is cooked in-house.

4. Restaurant to Consumer Model

McDonalds, Burger King, and Dominos are some of the biggest examples of this business model. These companies offer food deliveries to their customers through their websites or app to certain specific regions. They utilize partners like DoorDash and Zomato to deliver food to regions where they don't serve themselves.

Types of Food Delivery Services

With a surge in demand, food delivery services globally have now been under the spotlight. From winning customers to understanding them, a paradigm shift in the approach of food delivery services is also underway. Understanding those four distinct types of food delivery services hence is essential.

1. Restaurant Prepared Food Delivery
This is an on-demand delivery service that has disrupted the traditional market. Three basic components of a meal experience – ordering, cooking and delivering are managed. While few handle all three basic operations, most are into accepting orders, passing it on to partner restaurants and then delivering it to the customers. Companies like JustEat, GrubHub, FoodPanda have partnered with restaurants and then deliver the food to the customers. Whereas fast food chains like PizzaHut, Dominos or McDonalds do it all by themselves or even engage third-party apps to receive orders and get it delivered.

2. Meal Kits Delivery
Companies like Blue Apron and Freshly cater to this segment. Expected to reach USD 20 billion by 2027 as per Grand View Research, this is mainly chosen by busy and overworked families. Meal kit offerings have two options – heat and eat, cook and eat. Fresh, healthy, relatable meals resonate with customers who mostly face slot delivery issues.

3. Grocery Delivery
Grocery delivery saw a sudden spike during 2020 and will continue with its growth in the next couple of years. The business starts with either a web portal or app and delivers groceries to the customers from a warehouse or offline store where the items are stocked. At times, an online grocery marketplace is created by joining hands with few local grocery producers/retailers who would eventually use the platform to sell their products on the marketplace. Companies like Peapod and Instacart are mainly leading the segment.

4. Veggie Box Delivery
Vegetable box subscriptions are on the rise nowadays. These can range from Community-Shared Agriculture boxes (CSA boxes) to a corporate equivalent, which are branded boxes of vegetables and fruits. During 2020, over 500 British vegetable box providers, with waiting lists ranging from 160 to 6,700 customers, delivered 3.5 million boxes of fresh produce to homes, more than double their usual sales. Popular U.K. vegetable box suppliers, such as Farmdrop and Riverford, had to introduce online queues due to surging demands. The U.S. based Farmers Box and Misfits Market also registered large spikes in their sales of veg boxes during the pandemic outbreak.

Key Food Delivery Challenges

With more and more customers opting for ordering food online, the evolving market
place is rapidly becoming very competitive and challenging. Identifying these challenges and addressing them aptly will help businesses stay afloat. Let's take a look at those critical challenges faced by the current players in food delivery space.


1. The Shift in Customer Preferences
Increasing the market share by offering the best possible value to customers at the best possible cost should be the main focus of the food delivery business. The existing players have elevated the marketing game to such a level that customers are spoilt for choice even as competition is northbound, thereby making customer base unstable and affecting brand loyalty. In pursuit of controlling customer attrition, food delivery businesses are deploying marketing strategies and tactics to increase engagement and spread the word-of-mouth.
2. Fluctuating Market Prices
Prices for raw materials to prepare food is also highly volatile. In this kind of scenario, getting the right price and grabbing customer attention is a huge challenge. High operating costs further add up to the worry and thus affects profitability.
3. Adhering to Quality Standards
The massive surge in online orders makes businesses strive for maintaining food quality standards. There will always be a difference in the food that is freshly served at the restaurant versus the one delivered at doorsteps after travelling a few minutes and hence, companies should find new ways to address the same.
4. Improper Handling of Food
Mishandling of ordered food items is the biggest challenge faced by the industry currently. Only a handful of companies have proper measures in place to address the issue. Hygiene issue turns away a lot of customers, so should be handled with care. Providing proper training to the ground staffs are important and companies should invest in doing so.
5. Logistical Challenges
A major chunk of the business depends on how efficiently the logistics work to cater to a wider geography. Allocating the right staff, the right number of vehicles remains key while ensuring proper quality of the food. Last-mile delivery plays a key role and companies should pay attention to it for churning out happy customers.
Why is a food delivery service important?
Current lifestyle and pace of life have made it difficult for double-income households to cook a proper meal. The lack of time due to hectic work schedules makes it difficult to go out for dinner and lunch. Food delivery services can be a true savior. During the lockdown, it was helpful for many people to get food delivered at their doorsteps. Some of the advantages of food delivery service are listed below.
Wider Variety
Food delivery service gives a plethora of options to choose from at the comfort of your home. You can choose your favorite cuisine from a wide range of restaurants. You can also compare the prices and popularity rating of the restaurants before ordering. It is easy to order and the transparency in the transaction is also an advantage.
Cost efficiency for Customers
It is cost-effective to order food, the reason is that you cut on your traveling expense and time. Moreover, you can avail the deals and discounts that further reduce the expenses. As compared to dining-out, calling in for food at home is more affordable.
Easily Accessible
Just a smartphone with Android or iOS is needed that supports the app. Tutorial videos are available to enable users to get a hang of things.
Varied Modes of Payment
Making a payment is quite convenient while placing an order for food delivery services. You get a choice of paying either by cards, net-banking, digital wallets, or even by COD (cash on delivery). The payment gateways are secured with valid certification and are safe to use.

Why do businesses need a robust food delivery tracking system?

With the popularity of the food delivery business on the rise, its success and equity will largely depend on how robust their tracking system is with much riding on the last-mile delivery. 

Guaranteed secure deliveries: Real-time tracking ensures the safety and traceability of the parcel as it leaves the kitchen.  Customers will be able to understand the reason for any delay based upon the location of the package by improving the options for tracking the carriers. Having a local warehouse at every delivery point is essential to ensure the safety of the products while they are in storage.
Enhancing route planning: Optimizing the route of delivery is important as it makes the process smooth. Route management software helps to analyze designated routes and offers an optimized solution to the driver. This results in a reduction of delivery time and costs. With the support of this technology, drivers feel more relaxed while delivering food parcels. Special algorithms automatically assign the best driver suited for the specific route to ensure faster processing.

Enabling automatic dispatch: Through real-time tracking software, the products can be automatically dispatched with minimum manual intervention. The software automatically assigns the driver and delivery agents for every single package using a specific algorithm. From the dispatch till delivery, the entire operation is processed through these algorithms to maintain speed. This system also allows the customers to know the date and time of delivery beforehand along with further information on the delay if any.

Gain better control via tracking: The online tracking technology allows consumers to receive their packages on time and communicate with the delivery agent if necessary. Track and trace are an essential part of last-mile delivery services, helping to manage the routes and creates batch delivery systems automatically without any manual intervention. This, in turn, will speed up the process, and they are particularly useful when there is a lack of employees during certain situations.

Quick customer feedback: Customer feedback is important and some of the real-time tracking software offers this option. Feedback data is further analyzed and used in service enhancements. Customer opinions can help work out any kinks in the system. 

The latest technological interventions are essential which can connect the carrier, delivery agent, clients, and brands. These techniques are a part of the development involved in the last-mile carrier technology which will eventually deliver foods faster and help to  increase customer retention, followed by huge brand equity.
Top 10 Food Delivery Software/Apps

Since 2020, there has been a surge in the online food delivery business worldwide. Here are the existing top players around the globe.

1. GrubHub, USA
2. Doordash, USA
3. UberEats, USA
4. Postmates, USA
5. Just Eat, Denmark
6. Deliveroo, UK
7. HungryHouse, UK
8. Foodpanda, Singapore
9. Zomato, India
10. Ele.me, China
To sum up, the potential of the food delivery industry is endless. With the right technology and customer-centric approach towards delivering food, restaurants and food delivery businesses can thrive even in today's highly competitive market.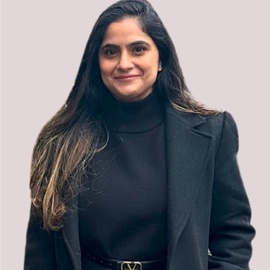 Komal Puri is a seasoned professional in the logistics and supply chain industry. As the Senior Director of Marketing and a subject matter expert at FarEye, she has been instrumental in shaping the industry narrative for the past decade. Her expertise and insights have earned her numerous awards and recognition. Komal's writings reflect her deep understanding of the industry, offering valuable insights and thought leadership.
Komal Puri
Sr. Director of Marketing | FarEye
Related resources
Zalora's Transformation with FarEye for Last-Mile Delivery
Download
Maximizing Black Friday Success: The Critical Role of Scalable and Sustainable Delivery Solutions
Read more
What is Carbon Neutral Shipping? A Comprehensive Guide
Read more