The best restaurant delivery software for efficient food delivery
Blog
By Komal Puri | October 13, 2022
A food or restaurant delivery software is a computer application that provides restaurant and delivery service owners with the usage of web-based tools to market and manage their restaurants' operations. These operations range from food ordering, delivery options, payment processing, vendor services, customer relations and inventories. A restaurant delivery software enables you to provide on-demand food delivery services and monitor your delivery orders. This helps restaurants to cater to a larger clientele and increase their sales.

How Food Delivery Evolved In the Past Decade
Food delivery has evolved to become one of the fastest-growing markets. According to Statista, revenue from the online food delivery segment is projected to reach a market volume of US$182,327M by 2024. Food delivery, a system whose origins can be traced back to ancient Rome, has changed with the advent of technology especially of communications technology including phones and POS (point of sale) systems. Online food ordering is the most popular form of food delivery today! With restaurant food delivery service software available to customize as per individual restaurant requirements, food delivery has become quite easy and simple – a few clicks and the food is delivered to you.

What is multi-restaurant delivery software?
Food delivery services are in high demand and for a restaurant that has multiple locations, multi restaurant delivery service software would be able to accept orders that can be routed to the closest location. This online restaurant delivery software allows a chain of restaurants to increase its production and generate revenue by creating an organized network to service a wider region. This multi restaurant delivery software enables the restaurant chain to efficiently manage inventory, menu, staff and incoming orders. By developing a single restaurant website and mobile app for multiple restaurants, the software allows saving on additional costs for updates and advertising. This also ensures that the brand image created will remain consistent to prevent discrepancies which can occur while maintaining multiple websites.
Top 10 Challenges in Modern Food Delivery Ecosystems
For any food delivery logistics ecosystem to succeed it needs to work in an efficient manner taking into consideration all the rules and regulations put into place to maintain food quality, timely deliverables and customer satisfaction.
A few challenges that face food delivery are:
1. Fast delivery expectations
With customers expecting increasingly smaller delivery time windows, adhering to the fulfillment timeline set is a must. If delivery timelines are not fulfilled, the reputation of the restaurant is ruined which leads to loss of future orders and revenue.
2. Increasing competition in online food delivery industry
The food delivery industry is filled with multiple players offering various schemes and promotions, thus providing customers with a wide variety of services to choose from. With the increasing competition, it becomes very difficult for new players to gain a customer base by offering the best possible value to customers at the least possible cost.
3. Keeping food quality intact
Providing customers with high-quality food is much easier to accomplish when the meal is consumed in the house. It is a known fact that maintaining the food quality becomes highly challenging during delivery as food is always prone to quality lapse irrespective of the measures taken in packaging.
4. Inability to seamlessly execute restaurant order tracking
Food delivery is a business that receives a massive volume of orders. In absence of an efficient food delivery system, managing and tracking would not be manually possible. Restaurant order tracking is significant as it gives a clear view of the time required for the delivery of food.
5. Increasing cash on delivery volumes
With contactless payments, the need of the hour, cash on delivery option is less preferable. Food delivery services need to incorporate secure payment gateways to provide other means of payment in lieu of cash to customers.
6. Declining customer experience
Increasing competition has given customers a wider range of choices. If restaurant delivery services are unable to satisfy customer needs, they would change to a different service provider.
7. Poor multi-delivery route planning
Delivering food on time is the priority for any food delivery business. Without proper route planning or dynamic route planning in place to take care of uncertainties along the delivery route, it would be difficult to deliver food on time.
8. Lack of capabilities to incorporate customer preferences
Customers prefer to have flexibility in the choice of delivery slots and track their orders in real-time. A food delivery system should be able to incorporate customer preferences to retain customers' loyalty to the restaurant.
9. Missed and late deliveries
A food delivery service needs to manage several orders at once. Doing this manually, sometimes deliveries are missed or delivered late. This means loss of time, resources and an angry customer.
10. Inefficient communication between delivery executive and customer
Today's customers require the real-time update of the entire delivery process from when the order was placed to the delivery of the food. Communication between the customer and the delivery executive is crucial as it considerably reduces the chances of non-delivery of the ordered food.

10 Key Benefits of Restaurant Food Delivery Software
The multi-restaurant delivery software helps to manage several restaurants without incurring additional overhead costs. This multi-restaurant order management software is user-friendly and aids in sales increase and mobile app maintenance. One of the key benefits of this software is the quick and easy management of menus across the entire restaurant chain.
A look at other benefits of multi-restaurant delivery service software:
1. Just-in-time order management
Just-in-time method of order management helps to create items that are directly related to the orders being placed, instead of making extra items. This restaurant order software increases efficiency, cut costs and decreases wastage of food.
2. Super fast deliveries
The success of online food delivery depends on timely delivery. By using multi-restaurant order taking software, food can be delivered at the estimated time, thus improving customer satisfaction.
3. Multi-drop delivery route planning
The automated route planner available in the restaurant delivery computer software helps to save time and allows achieving faster, timely and economical delivery.
4. Increase delivery profitability
A restaurant delivery order software enables restaurants to reach a wide range of customers. By providing online services, customers can view the menu at their own pace, place orders and overall making sales happen, thereby increasing delivery profitability.
5. Track and trace orders in real-time
Customers always want to stay updated about their orders and the delivery person's current location. Keeping a track on orders in real-time enables restaurants to have clear visibility of their operations and share the same information with their customers.
6. Offer flexible deliveries
Flexible deliveries within specified delivery windows make a customer more satisfied and improve customer experience. A happy customer is almost always guaranteed to come back for more purchase. Hence, creating a set of suitable and cost-efficient delivery time windows allows restaurants to handle increasing delivery costs while keeping the customer happy.
7. Scale food delivery operations
With a multi-restaurant delivery order software, you can cater to a much larger number of customers without having to make any additional investment in staff or infrastructure.
8. Drive contactless deliveries
The software, to facilitate contactless deliveries, helps to ensure various modes of payment options are available for the customer in lieu of cash payments. To avoid direct contact with the customer, the delivery time of the order can be notified to the customer via phone, text, and email or app notification.
9. Track your customer's preferences
A restaurant delivery tracking software stores valuable information regarding your customer preferences, their likes and most commonly ordered items. Using this information, restaurants can provide promotions and offers on their website to entice them to keep coming to your restaurant.
10. Ensure ETA (Estimated Time of Arrival) accuracy
The tracking of your food deliveries would help to give your customers a real idea of where their food order is in the delivery process. By enabling real-time visibility to customers, ETA accuracy can be provided, thereby increasing customer experience of your brand.

What features should the best restaurant delivery software offer?
Online food ordering software has helped to increase the convenience level of the customers as well as boosted the restaurants' sales. Below are some other critical features which are needed in online restaurant delivery software.
Driver Crowdsourcing App
Driver crowdsourcing app enables restaurants to diversify their delivery services to cost-effectively meet capacity during peak seasons. Through a mobile app, restaurants can onboard crowd-sourced drivers with ease.
Contactless Deliveries
Contactless deliveries help ensure the safety of customers and employees of the restaurant too. By incorporating temperature tracking, safety norms followed while packing the food on the mobile app, using cashless means of payment by integrating digital wallets helps to show the precautions taken by the restaurant to aid a contactless delivery to the customer. With contactless deliveries available, execution of curb-side deliveries and outside-door deliveries can be done easily.
Dynamic Planning (Roster)
Dynamic roster planning enables the smooth running of delivery operations based on driver availability and fleet resources. These details can be easily integrated into the HRMS platform to avoid data discrepancies.
Performance Management with Gamification
A successful food delivery needs to be appreciated and rewarded. Employees tend to be more productive in their performance when they are rewarded for their hard work. By maintaining in-app delivery staff leaderboards, restaurants can motivate them to perform based on gamification which ultimately impacts the customer experience.
Maximum Flexibility for Your Customers
The software should be able to provide customers with their delivery time slots allowing restaurants to provide a customer-centric experience. By giving customers the ability to track and trace their food deliveries in real-time, along with chatbot support would keep them happy.
Online Chat Platform
The online chat platform is a customers' support channel which forms a convenient platform for customers to air their issues and queries. It also allows restaurants to analyze their performance through analytical tools provided by the software.
Live Order Tracking
Online Restaurant Delivery Software capability to keep track of food orders and their deliveries enable them to provide the customer with a live order tracking facility. This provides customers to remain in the loop from placing the order till the time the food has been delivered.
Electronic Proof of Delivery
Electronic proof of delivery is one more step towards ensuring a contactless delivery system. The software fulfills order execution with the ability to collect signatures, notes, and payments via the mobile app.
ETA Accuracy
By utilizing the data provided by the software on the current status of the food order, the platform can generate an accurate ETA. The software had advanced algorithms to assimilate the data and provide ETA accurately.
Automatic Order Dispatch
The software would be able to automatically allocate food orders to the most suitable delivery person, taking into account available resources, proximity to the customer and turnaround time.
Quick Customer Feedback
The most effective way to improve and cater to customers is to get quick customer feedback. This feedback would help restaurants to review and make necessary changes in their delivery software to maintain customer satisfaction.
Live Order Fulfillment Status
Customers wish to be a part of the whole delivery process. They would like to view the various stages of their food delivery process. The live order fulfillment status can be easily obtained through the software and displayed to the customer.
Digital Wallets and OTP Based Transactions
The software should be able to support all forms of digital payments including digital wallets, debit and credit cards, net banking and OTP based transactions. With most customers preferring a cashless transaction, digital modes of payment is a must for food delivery service.

What is a restaurant management system?
A restaurant management system is a type of point-of-sale software that's tailor-made for the foodservice industry. It's used by restaurants, bars, food trucks, and others in the foodservice industry. A point-of-sale system can be just one feature of the restaurant management system. It can contain several other features like payment processing, payroll and accounting service, employee scheduling, and restaurant inventory management. The best RMS help in reporting sales and customer data, overall order management, and inventory management.

How does restaurant order system work?
The consumers scan through the menu and select the items that they want. The items once selected are put into a cart. In the cart, the customers can see the order list, the quantity and the individual price of items selected, and the total price including things like a delivery fee, service tax, and other related taxes.
If the customers are satisfied with their selection they are then are required to add the address and time for delivery. They'll need to choose from a list of payment modes.
Once the payment is made the order is placed. The restaurant gets instant notification of the order after which the team at the restaurant starts processing the order. The customer also receives a notification of the payment made and the order received.
Once the food is made and is ready to be delivered, the restaurant management system will assign a delivery agent and notify the customer. Smooth collaboration between kitchen management systems and driver management systems is needed to fulfill orders and ensure good customer experience.

The Importance of Restaurant Order Tracking Systems
A well-designed restaurant order tracking system is an important part of the growth of the restaurant business. The system will ensure that your customers always have a great ordering experience. During rush hours, the chances of keeping track of orders manually become complicated and are prone to cause mistakes.
The restaurant order tracking system would be able to provide order management and avoid wastage of food. Delay of orders would invariably cause a cascading effect which ultimately impacts the customer experience. Proper management of orders would provide delivery agents to maintain the delivery schedule instead of speeding and causing accidents, avoiding traffic and unnecessary delays. A well-managed order tracking system would ensure order fulfillment and boost driver productivity.

Boost Profitability with the Best Restaurant Delivery Management Software
Today, people can easily order food online thanks to technology. With a restaurant order tracking app, restaurants can target a larger clientele base to increase their sales. The ability to combine multiple deliveries per route using delivery route planning helps to reduce fuel consumption and increase profits. Using a crowdsourcing app to source drivers to handle demand fluctuations during peak seasons will keep customers happy and invite future referrals too.
With a restaurant delivery tracking system, easy visibility on the movement of drivers can be used to ascertain whether drivers are following safe driving protocols or not. With the software providing tools able to predict the time needed to deliver food items, care can be taken to maintain food safety standards. With increased flexibility provided to customers in terms of placing delivery orders as per their convenience, communicating with customers on the arrival time of their delivery allows us to create an increased and positive customer experience.

FarEye's Restaurant & Food Delivery Software
FarEye, a SaaS-based real-time visibility platform, helps restaurants to create, orchestrate and control on-demand delivery operations. The platform's on-demand and hyperlocal delivery software provide the right technology to handle demand fluidity for perishables like food and grocery. The key features of this software include driver crowdsourcing app, contactless deliveries, dynamic planning, performance management with gamification, maximum flexibility for customers.
On the whole, FarEye helps in boosting sales and implementing effective marketing strategies that will make your restaurant stand out among its peers and competitors.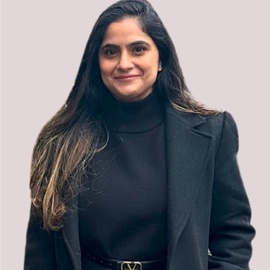 Komal Puri is a seasoned professional in the logistics and supply chain industry. As the Senior Director of Marketing and a subject matter expert at FarEye, she has been instrumental in shaping the industry narrative for the past decade. Her expertise and insights have earned her numerous awards and recognition. Komal's writings reflect her deep understanding of the industry, offering valuable insights and thought leadership.
Komal Puri
Sr. Director of Marketing | FarEye
Related resources
Zalora's Transformation with FarEye for Last-Mile Delivery
Download
Maximizing Black Friday Success: The Critical Role of Scalable and Sustainable Delivery Solutions
Read more
What is Carbon Neutral Shipping? A Comprehensive Guide
Read more