What are the challenges in supply chain visibility & how can technology solve them?
Blog
By Komal Puri | October 13, 2022
Poor supply chain visibility has been choking the supply chain and logistics industry for decades. According to SupplyChainDive, 94% of businesses do not have full visibility of their supply chain and logistics operations. The problems that come with poor supply chain visibility gradually eats into a business' revenue, efficiency, productivity and customer experience.
The question is why is it so difficult to achieve high levels of supply chain visibility? Traditional means of executing operations is one of the major reason behind poor visibility. Legacy IT systems work in silos. This makes it extremely difficult for supply chain and logistics stakeholders to get a holistic picture of all that's happening on the ground. Before we delve deeper into the problems let us quickly understand what supply chain visibility really means.
What is supply chain visibility?
Supply chain visibility refers to core logistics activities like in-transit movement of goods or freight, in-plant logistics activities, movement of delivery vehicles from warehouses to hubs to the customer's doorstep, movement of trucks from manufacturing units to end-customers, being 100% transparent, trackable and traceable to supply chain stakeholders.
In the case of traditional supply chain and logistics management, for instance, when an order moves from a warehouse to a central hub for final dispatch to customers, there is little or no in-transit visibility of those orders. This happens because the warehouse management systems (WMS) and the systems being used by 3PL logistics providers are not interoperable. Similarly, a transport management system (TMS) is not in sync with an inventory management system, an order management system (OMS) lacks interoperability with TMS, so on and so forth. Poor visibility results in a series of inefficiencies within a supply chain.
Top four challenges that come with a lack of visibility

Since customer expectations are at stake, smart businesses are addressing the poor visibility challenge head-on. Streamlining processes, integrating operations and improving connectivity are the main areas that will empower enterprises to gain high levels of operational visibility. Businesses will need to look for ways to integrate disparate logistics systems like TMS, WMS, OMS, 3PL systems and more to ensure supply chain visibility.

Technologies That Can Address Supply Chain Visibility Challenges
Savvy businesses are also aggressively exploring and investing in cutting-edge technologies like machine learning, business analytics and digital control towers to enhance supply chain and logistics visibility.
Machine Learning
Machine learning algorithms empower businesses to gain predictive intelligence by scanning through historical KPI-data of routes previously undertaken by 3PL providers. Knowledge about these KPIs empowers logistics stakeholders to gain predictive visibility.

Business/Cognitive Analytics
Business or cognitive analytics empower businesses to mine and crunch data from disparate systems and gain critical business insights. It helps logistics stakeholders accurately benchmark KPIs, figure out inconsistencies in SLAs, identify financial holes and other inconsistencies in the entire process of supply chain and logistics.
Digital Control Tower
A digital control tower (DCT) empowers businesses to gain real-time supply chain visibility that logistics stakeholders can act upon such as pick-up problems, route-wise performance, delivery delays for all orders on a single screen, drastically improving supply chain management.
As customer experience rapidly takes over price as a major competitive differentiator and margins keep shrinking, ensuring end-to-end visibility of supply chain and logistics operations will become imperative. There is no way out but to integrate disparate IT-systems and embrace disruptive technologies.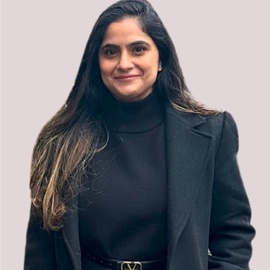 Komal Puri is a seasoned professional in the logistics and supply chain industry. As the Senior Director of Marketing and a subject matter expert at FarEye, she has been instrumental in shaping the industry narrative for the past decade. Her expertise and insights have earned her numerous awards and recognition. Komal's writings reflect her deep understanding of the industry, offering valuable insights and thought leadership.
Komal Puri
Sr. Director of Marketing | FarEye
Related resources
Zalora's Transformation with FarEye for Last-Mile Delivery
Download
Maximizing Black Friday Success: The Critical Role of Scalable and Sustainable Delivery Solutions
Read more
What is Carbon Neutral Shipping? A Comprehensive Guide
Read more