Best-in-Class Logistics With FarEye on AWS
FarEye's intelligent delivery platform runs on AWS to provide flexible, configurable and agile solutions to enable predictive visibility and orchestration for the first, mid and final mile of global enterprises.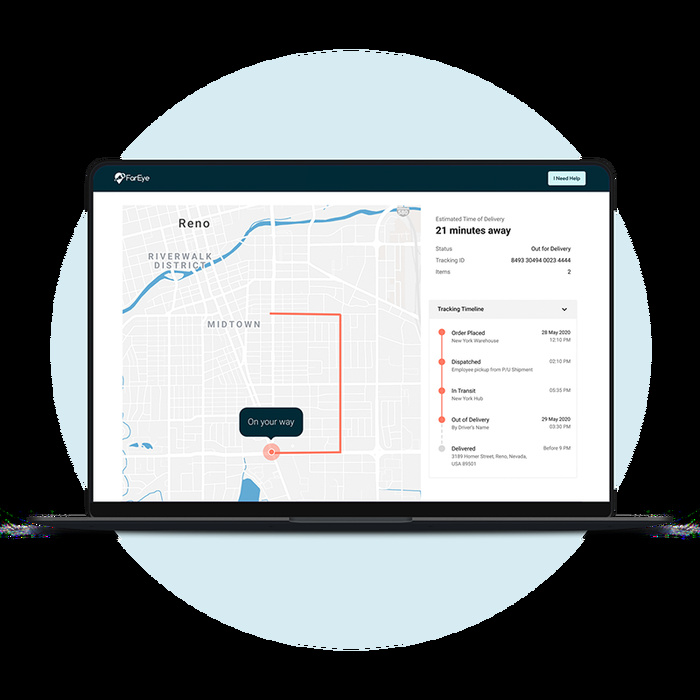 The power of FarEye on AWS
We provide organizations with real-time visibility and intelligent insights into their operations across the whole supply chain. FarEye helps your business go live faster, instantly roll out process changes, and keeps your delivery ecosystem agile. The engine creates a superior customer experience while granting organizations end-to-end visibility throughout the delivery journey.
Why FarEye
Visibility
Gain visibility into your supply chain and provide real-time ETA updates.
Orchestration
Manage and optimize a pickup and delivery network with an intelligent platform
Execution
Execute omni-channel fulfillment with speed, satisfaction and reduced cost
How FarEye runs on the AWS Cloud
Stay ahead with AWS
FarEye desired a global cloud service provider able to partner with us as we scale, and support us with the technical expertise to build a truly global last-mile solution. AWS's enterprise-ready, reliable and secure infrastructure accelerated our ability to build and deploy solutions while delivering enterprise-grade performance to our customers worldwide.
FarEye's last-mile solution runs on AWS enabling our customers to leverage the latest in technology to stay ahead of the curve. "Visibility and engagement during delivery is a key contributor to customer satisfaction," said Manish Govil, Global Segment Leader, Supply Chain, Amazon Web Services (AWS). AWS provides the broadest set of capabilities for artificial intelligence and machine learning that companies like FarEye can leverage to deliver innovative supply chain solutions to customers. The AWS Supply Chain Competency makes it easier for our customers to discover differentiated APN supply chain partners."
Amazon Web Services
"Delivery can no longer be an afterthought but is a core business advantage and the key to consumer satisfaction and loyalty," said Sanjeev Suri, Senior Vice President - Global Omnichannel Logistics & Customer Services, Amway India. "We have been working with FarEye to improve visibility throughout the order-to-delivery process and monitor our 3PLs and last mile partners' performance to ensure timely deliveries."
Amazon Web Services
"Last mile has become the most critical, complicated aspect of the delivery journey, and the most expensive leg of shipping costs. Getting it right is paramount for companies given the rise in e-commerce spending and influx in deliveries," said Suryansh Jalan, President, FarEye. "We are proud to achieve the AWS Supply Chain Competency as an AWS Partner and look forward to helping our joint customers deliver a superior consumer experience with every delivery, driving their competitive edge and increasing end consumer brand loyalty."
Amazon Web Services
Security and scalability with AWS
With AWS, we are able to manage peak demands as our clients scale their usage of our solutions through surges in seasonal usage in real-time and as our client's operations broaden to include more use cases, trucks, packages and global distribution.

FarEye's AWS Certifications
AWS Supply Chain Competency
AWS Qualified Software
AWS ISV Accelerate