The Returns Remedy
With a third of all online purchases returned, not having an efficient, cost-effective returns process can make your head spin. FarEye has the returns remedy. We streamline your returns process and provide customers full visibility into the status of their returns.

Download your copy of FarEye's Last Mile Mandate eBook to learn how to make the delivery experience your competitive advantage.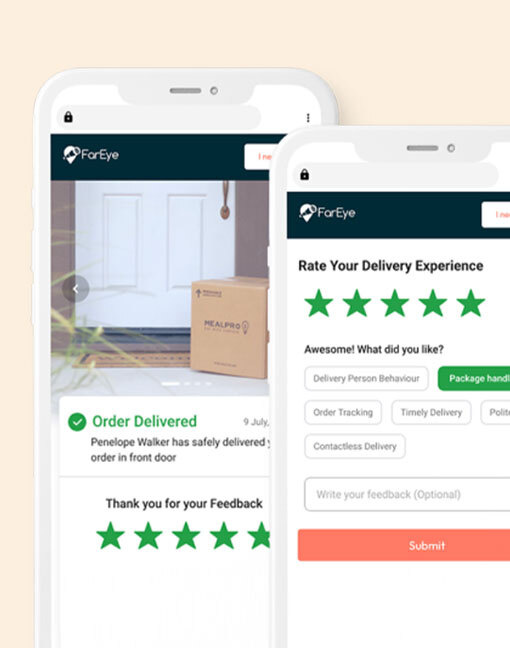 Provide a seamless online returns experience to boost customer experience and loyalty
Returns Management
Returns are a complex part of the customer experience as 60% of consumers will consider a returns policy BEFORE making a purchase and 81% will switch brands due to a negative returns experience. Without an easy-to-navigate returns experience, your customers may not give you a second chance. FarEye simplifies the returns process to deliver a superior customer experience to help you retain brand loyalty.
Discover how
Easy Returns & Exchanges
Simplify your returns process into four easy steps via a branded returns portal. From easy home pickups to providing multiple drop-off locations, customers choose and personalize their return method and day.
Refund Payment Processing
FarEye's returns module integrates with payment gateways to provide a seamless refund experience. Customers can track their refund status in real-time via communication methods like email or SMS and reduce call center volume.
Understand Customers
Better understand your customers with real-time returns analytics for insights into return rate, return performance and SKU level details. Fine-tune your returns management to help you provide superior service.
Why delivering a great returns experience matters
of consumers consider the returns policy making a purchase
of consumers favor brands that offer a good returns options
of consumers would switch brands based on a bad returns experience
A competitive advantage
FarEye allows you to execute a streamlined, cost-effective returns process to help boost customer retention while providing a superior, personalized experience for each return. FarEye makes returns management part of your competitive advantage.

Four benefits to using the returns module
Experience
Increase customer satisfaction and retention with an easy-to navigate returns experience.
Optimize
Reduce returns rate by using data to improve returns workflows and inventory planning.
Visibility
Provide returns visibility to customers so they can track where their return is in the process.
Insights
Receive actionable insights for your business about the top reasons for return, most returned products & top locations.
Dig deeper
The e-commerce returns problem & the perfect e-commerce returns process
Read more
How to Buy Last-mile Delivery Technology
2021 Gartner Market Guide for Vehicle Routing, Scheduling and Last-Mile Technologies