On-demand delivery platform software: features and benefits
Blog
By Komal Puri | October 18, 2022
On-demand delivery platforms have ushered in an age of convenience. Consumers can ordering anything they want from the comfort and safety of their home and at the click of a button. Be it food, grocery, transport, medicine, courier or retail items, customers want their on-demand delivery applications to instantly gratify them.

What is on-demand delivery platform?
On-demand delivery platform or software refers to the set of tools that allows a business to receive an online order and provide express delivery of its products with a highly efficient transportation system.
The software leverages disruptive technologies like AI, machine learning, GPS tracking, to undertake deliveries in a short period of time and provide the goods to the customers right at their doorsteps.
It allows the customer to register on the app, find the required product, pay online and place the order. The software then begins to process the order by finding and matching delivery personnel who can fulfill the delivery in the shortest period of time. It allows the customer and the business to track the exact location of the driver and also provides an option to the customer to rate their overall delivery experience. All of these functions are carried out seamlessly in one integrated platform.
Types of On-demand Delivery Software Apps
1. On-demand restaurant/food delivery apps
Restaurant/food delivery apps connect customers and nearby restaurants and food joints and allow them to order food items at their convenience. The restaurants provide all the required information about their menu on the app including ingredients and cost for easy access to the customer. Once the order is placed, the status of the food delivery agency can be tracked using the same app. The most famous example of such an app would be Zomato.
Zomato is a restaurant aggregator as well as a food delivery app that provides information, menus, and reviews about nearby restaurants. It has its services available in 24 countries and covers more than 10,000 cities with customers across the world.

2. On-demand grocery delivery apps
COVID-19 increased the requirement for on-demand grocery delivery apps multifold. Such apps provide information about the availability of products at the customers' nearby grocery stores and allow them to place an order online.
A popular example would be that of Instacart. It is an American grocery delivery and pick-up service operating in the United States and Canada. Through its website and mobile app, it allows customers to place orders with retailers. However, in this case, the shopping is done by a personal shopper on the customer's behalf who chooses, packs, and delivers the order within a particular time frame.

3. On-demand transportation apps
The transportation sector has massively transformed owing to taxi-hailing apps like Uber. It allows the customer to book a taxi for their desired location on the app and offers them multiple options of taxis, which can be chosen as per the customers' budget and convenience. The customer can track the driver at every point of the journey and can also opt for carpooling services to save money.

4. On-demand retail delivery apps
The retail sector is yet another sector that is heavily disrupted with on-demand services. Retail and eCommerce is another sector that has been heavily disrupted with the on-demand. An on-demand retail delivery app allows customers to buy almost anything with a cluster of options and in a short span of time.

5. On-demand medicine delivery apps
On-demand medicine delivery apps allow customers to buy medicines from their nearest pharmacy and get them delivered within a couple of hours. Apps like PillPack, which is an American online pharmacy and a subsidiary of Amazon.com, allow customers to upload their prescriptions online and order their medicines accordingly. It also enables customers to schedule monthly delivery of medicines depending upon their medical needs.

6. On-demand courier delivery apps
There is a massive surge in the number of on-demand courier delivery apps. Startups like Carry, which is an on-demand courier app that allows sending of couriers by both businesses and individual clients within Dubai, Abu Dhabi, and Sharjah.
Within 60 minutes of receiving the order, Carry dispatches one of its drivers to retrieve deliveries and allows users to track their deliveries at all points.
8 Benefits of Using an On-demand Delivery Platform
1. Instant gratification
Instant gratification refers to the need of the modern customer to want things in an instant. From cabs, food, house rentals, on-demand delivery platforms are able to tap on this sensation and fulfill this need with efficiency. Everything can be accessed by just using a mobile phone and an app to ensure instantaneous delivery of goods and services.
2. Anytime anywhere access
On-demand delivery platforms just require a mobile phone and internet access to be used anytime and anywhere. The user interface of such platforms is designed to keep in the needs and convenience of the users so that they can access all the information at one place and place orders round-the-clock and at their convenient locations.
3. Eliminating the middle man
On-demand deliveries have eliminated the need for a middleman to conduct business operations. Using on-demand delivery management software, businesses are able to directly reach the end-user and handle the transactions efficiently using digitized means. This also helps in saving up on the extra cost of involving middlemen and helps in improved relationships with the customers.

4. Competitive pricing
The majority of online shopping involves comparing prices on the customers' end and through competitive pricing, companies are able to ensure that their customers do not move to another competitor because of low costs.
Using modern technology and benchmarking tools for decision-making and optimizing prices, businesses take advantage of market movements. It helps in maintaining the margins and also in getting an edge over the competitors.

5. Personalized connect with brands
Offering customers an experience that is tailored to their preferences keeps them engaged with the brand and requires a strategic approach.
The messages, offers, and experience can be personalized through on-demand delivery platforms which keep a track of each customer's purchasing behavior and needs, to establish a personalized connection. Demographics, interests, and patterns help the brand to create campaigns and content that connect with the customers.
6. Live delivery updates
On-demand delivery management platform provides all stakeholders live updates about each stage of the delivery process. Right from the order being placed to the whereabouts of the order when the delivery personnel is out for delivery, it keeps a track of all the information that is necessary for the business and the customer.

7. Greater product options
With on-demand delivery options, customers are able to access a large variety of products on a single platform which otherwise would be a cumbersome process if done in physical stores. It is much easier to compare prices of products online and choose what suits best, in the desired quantity using an on-demand delivery service.

8. Home deliveries
Nothing compares to the feeling of receiving products at your convenience! Home deliveries, within a couple of days or sometimes even within hours, make the entire process effortless for the consumer as they can easily try and evaluate the product in the comfort of their home and as per their schedules.
How are on-demand delivery companies are improving customer experience?
On-demand delivery companies need to keep their customer's needs and convenience as their top priority in order to manage their operations successfully. The aim is to satisfy the customers by delivering their orders on time and improve their experience with the enterprise in different ways.
Free Deliveries
Truth be told, customers love nothing more than freebies. On-demand delivery companies leverage this by providing customers with free deliveries either within a specific radius or location or over a specific order amount. This boosts the customer's experience with the enterprise and often makes them a returning customer in the long run.
Ensuring Same-day and 1-hour Deliveries
A key feature of on-demand deliveries is that they are fulfilled within a short span of time, sometimes within an hour. For customers who require essentials urgently or within a couple of hours, this facility is a godsend. By fulfilling their promise of same-day or 1-hour deliveries, enterprises are able to retain the trust of their customers by ensuring their orders are completed within the stipulated time period.

Customer Transparency
On-demand delivery companies keep the customers updated with every step of their orders being delivered at their doorsteps. From the assignment of delivery personnel to the exact location of their order, complete transparency is ensured by businesses to ensure that the customers are kept in the loop and that there is no lack of information.

Flexible Delivery Options

The delivery needs of the customer change frequently. While for some daytime residential delivery is perfect, for others a delivery during office hours at their workplace is essential. Some might be willing to wait a few days to receive their order while others prefer picking up their deliveries from an authorized store at their convenience. Therefore, it is important for the on-demand delivery business to provide flexibility in the delivery options to their customers so that they can personalize their experience as per their needs.
Contactless Deliveries
Contactless deliveries became the norm in 2020 and will continue to be in the long run. It ensures the safety of both the delivery personnel and the consumers while fulfilling the orders and adhering to the guidelines. Keeping the security and safety of the customers as their priority, on-demand delivery companies ensure that the delivery process including the delivery receipt and payment is digitalized and that their delivery personnel strictly follow social distancing norms.

Curbside Pickups
Curbside pickup refers to a service that allows customers to collect their order from a location at their convenience. This is beneficial for people who stay out for the most part of the day and can miss out on deliveries. It allows the customers to save up on the shipping fee, is quick, and also provides them with the option to check the quality of their orders on the location.
Easy Returns Processes
Gone are the days when the customers are required to physically visit the store to return a product. On-demand deliveries provide their customers to return their order at the click of a button. The modern customer needs to evaluate the quality of the products in the comfort of their homes, and prefer a hassle-free return policy. The easy returns process allows them to return the product using their mobile phone applications and is picked up from their home, with the money transferred back to their payment method almost instantly.

In-store Feel Purchasing Experience
While shopping online has its own benefits, some customers still prefer the in-store purchasing experience. In today's time, however, it is imperative for on-demand delivery companies to ensure that the customer can achieve a similar experience while staying at home. Customization of orders, accurate information about the products, availability of help, user-friendly UI of apps are some factors that businesses need to inculcate to provide their customers with an in-store like purchasing experience.
On-demand Delivery Use Cases and Examples
With each passing day, more and more customers are attracted to on-demand delivery apps owing to the array of benefits they offer. From food, liquor, clothes, to medicine, there's a dedicated app for almost everything making our lives more convenient than ever.
Take Domino's Pizza as an example. The multinational pizza restaurant chain has a dedicated application for online ordering of pizzas, along with their website. Owing to the on-demand food delivery software, customers can easily access their entire menu on the website or the app, and place orders quickly. It also offers multiple offers and discounts on a regular basis that attracts the customers even more.
Once the order is placed, it takes the customer through each step before the delivery is fulfilled. Right from the order being accepted by their nearest Domino's Pizza franchise, to the preparation of the order and the order being out for delivery. It also allows the customer to track the exact location of the delivery personnel in real-time and the ETA of their order. Domino's Pizza has also tied up with other online food delivery platforms like Swiggy and Zomato, wherein the customers can place orders with ease.
Another growing on-demand delivery app would be SARAL.
It is a hyperlocal courier service that is currently available in a few cities in India and has partnered with multiple other on-demand delivery providers like WeFast, Dunzo, and Shadowfax.
The app can be used by both businesses as well as individual consumers for their day-to-day couriers and acts as a one-stop solution to grow businesses and send couriers seamlessly. The pricing of the job varies for the different delivery partners and the customer can choose the partner as per their budget or urgency with which they need the courier.
Features of On-demand Delivery Platform
FarEye continues to enable several businesses to conduct their delivery operations more efficiently. Some of its key features that enhance the capabilities of enterprises are:
1. Scaling on-demand deliveries
For all businesses venturing into on-demand deliveries, it is imperative to have a platform to make the process seamless and to meet elastic demands. FarEye acts like a single platform that can not only receive orders, broadcast them, assign drivers but also boost profitability on the whole by leveraging modern technology.
2. Delivery scheduling
An important aspect of on-demand delivery is that the deliveries are scheduled as per the convenience of the customer. FarEye allows businesses to schedule deliveries with utmost ease with its native capability of delivery schedule, which allows them to further empower their customers.

3. Order broadcasting
Order broadcasting refers to sourcing a delivery agency that could reach the nearest pickup point in the shortest time and complete the delivery within the stipulated time frame. For this purpose, the delivery agents also need to have access to apps on their devices where they can accept or reject orders. The app also provides them navigation services to reach the location on time.
4. Crowdsourcing delivery personnel
Owing to the dynamic nature of home deliveries, driver crowdsourcing is required to manage the operational costs and also cater to the fluctuating demand. FarEye acts as a solution for businesses that need to crowdsource delivery personnel without inflating the costs.
5. Real-time dynamic routing
On-demand deliveries need to be completed within a short span of time, as opposed to other kinds of deliveries. FarEye through its real-time dynamic routing feature provides information about the best and fastest routes for conducting the delivery operations, saving considerable time and money for enterprises.
Moreover, it provides customers with ETA guarantees for their orders and keeps all stakeholders informed through real-time ETA visibility as well.
6. Service point deliveries
It is also likely that some customers prefer picking up their order from service points instead of getting it delivered to their places. In such instances, the business enterprise needs to provide flexible options to their customers by enabling and managing authorized service point deliveries, so that the customers' convenience is retained and the order is fulfilled in the right manner.
7. Contactless delivery operations
The pandemic made contactless deliveries the only way to conduct delivery operations during the initial phase of the COVID-19 outbreak and lockdowns. To ensure the safety of both the delivery personnel and the customer, digital payments became the norm for all sorts of deliveries. It also enhances the customers' trust and reliability in the enterprise and keeps a track of all online transactions in one place. FarEye provides for multiple payment portals and e-wallets that make the process easier and safer for all stakeholders involved.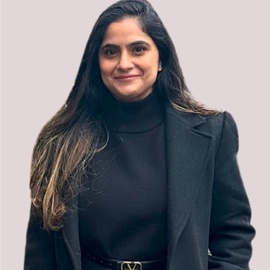 Komal Puri is a seasoned professional in the logistics and supply chain industry. As the Senior Director of Marketing and a subject matter expert at FarEye, she has been instrumental in shaping the industry narrative for the past decade. Her expertise and insights have earned her numerous awards and recognition. Komal's writings reflect her deep understanding of the industry, offering valuable insights and thought leadership.
Komal Puri
Sr. Director of Marketing | FarEye
Related resources
Zalora's Transformation with FarEye for Last-Mile Delivery
Download
Maximizing Black Friday Success: The Critical Role of Scalable and Sustainable Delivery Solutions
Read more
What is Carbon Neutral Shipping? A Comprehensive Guide
Read more