What is on-demand delivery logistics? How does it work? What are the benefits?
Blog
By Komal Puri | October 13, 2022
The on-demand delivery market is booming. Online websites and application-based digital platforms are major drivers behind the rapid growth in the on-demand delivery market.
According to Statista, revenue from platform-to-consumer delivery is expected to witness an annual growth rate (CAGR 2021-2024) of 6.76%. The projected market volume is expected to be US$96,864 million by 2024. 
Evolving customer expectations, the need for instant gratification, convenience, cost efficiency, emerging gig-economy markets and improvement in logistics infrastructure are key drivers behind the on-demand delivery boom.

On-demand Delivery Flashback
The term on-demand caught the attention of businesses when cloud computing started gaining traction. The concept of making certain computing capabilities, like storage, throughput, compute, and security available to customers on an as-needed and when-needed basis, started to be called on-demand service. 
When iPhone launched the first smartphone and created an app-based marketplace, on-demand services quickly found their way to the consumer economy. On-demand services have grown since then. Delivery on-demand, retail on-demand, grocery on-demand, restaurant on-demand, entertainment and media-on-demand, medicine on-demand, physicians on-demand, furniture on-demand, the list of on-demand items is long. 

On-demand Delivery Meaning and Definition
On-demand delivery is a set of multiple sales and logistics processes that empower retailers, manufacturers, e-commerce providers, restaurants and grocery chains to satisfy a customer's need to buy an item and have it delivered either to a doorstep or to another preferred  in the most efficient way possible. In other words, on-demand delivery leverages online platforms like websites, social media channels and mobile applications to sell their products to customers and deliver the ordered items to an end-customer.

How does on-demand delivery work?
Imagine a consumer using a mobile application to buy the latest version of the iPhone. It's a surprise birthday gift for a friend. As the birthday is the following day, the consumer needs the phone right away. When the consumer places the order, the application immediately triggers an alert notifying the warehouse where it is stored. The warehouse quickly identifies the item and forwards it for shipping. A driver is immediately assigned.
The driver picks up the order from a hub and commences with the last-mile delivery journey. At the end of the journey, the consumer receives the gift in less than 24-hours. This is an example of a typical on-demand delivery. This hypothesis is a simplified version. In reality, on-demand deliveries are growing more complex due to constantly changing market dynamics, logistics inefficiencies and rising operations costs.

On-demand delivery cost refers to the price of delivering goods or services to customers in real-time or within a short timeframe, as opposed to traditional delivery methods where packages are shipped over several days.
The cost of on-demand delivery can vary depending on several factors, including the distance between the delivery location and the supplier, the size and weight of the package, the urgency of the delivery, and the mode of transportation used.
On-demand delivery services typically have higher costs than traditional delivery methods due to the need for rapid delivery and personalized service. However, the convenience and speed of on-demand delivery can be worth the added cost for customers who require urgent delivery or who value convenience above cost.
The Importance of On-demand Delivery Logistics
Logistics is critical when it comes to ensuring highly efficient on-demand delivery services. To be pragmatic, how efficiently a business manages its logistics operations directly impacts the success of on-demand processes. From identifying an order that's kept in a large warehouse with thousands of racks, to shipping it and ensuring flawless last-mile delivery execution, managing each step is important. To drive on-demand delivery processes, one needs to power logistics management with modern technologies like machine learning, the Internet of Things (IoT), analytics, cloud computing and predictive intelligence.
These disruptive technologies empower businesses to plan highly productive delivery routes, generate accurate ETAs, easily benchmark delivery KPIs, boost driver performance, optimize transportation costs and make deliveries customer-centric. They also automate core on-demand delivery processes like route planning, scheduling, task allocation, billing, roster management, and customer notifications among others. Advanced logistics tools also help businesses scale delivery operations by leveraging intelligent crowdsourcing capabilities.

7 Immediate On-demand Delivery Benefits for Enterprises
There are many benefits of providing on-demand delivery services. Starting with an increasing customer base, eliminating infrastructure costs to driving self-service delivery models, on-demand delivery ensures rapid growth. Here are some major on-demand benefits:
1. Larger customer base
Unlike traditional brick and mortar retail outlets, on-demand delivery helps brands reach out to a large customer base that spans from local to international consumers.
2. Provide competitive pricing
Businesses can provide highly-competitive pricing as modern on-demand delivery strategies significantly reduce investment in human resources, storage and store operations.
3. Understand customer behavior & demand patterns
Such deliveries leverage advanced technologies like deep learning and business intelligence that helps businesses understand buying patterns and trends. This improves the chances of up-selling and cross-selling products.
4. Boost customer loyalty
In an increasingly virtual buying environment logistics remains a critical physical touchpoint that impacts a brand-customer relationship. Savvy brands leverage advanced logistics tools to provide customers with personalized and delightful delivery options. This directly boosts customer loyalty.
5. Eliminate infrastructure costs
On-demand delivery means selling via online platforms. The need to invest in a physical store, and pay for its everyday operational expenses, including staff compensation, is greatly reduced by on-demand delivery models.
6. Reduce manual dependencies
An important characteristic of on-demand delivery is speed and to ensure quick delivery turnaround-time it's important to automate manual delivery processes. These processes include delivery scheduling, task allocation, route planning, roster management and dispatching.
7. Provide self-service delivery models
Self-service delivery models are a great way to boost customer engagement and experience. Such models empower businesses to allow customers to change delivery location and time on the fly. It makes the entire delivery process customer-centric.

Why Savvy Brands are Focusing on On-demand Delivery Tracking
On-demand delivery tracking is a key component of modern logistics strategies. By leveraging advanced transportation tracking tools, businesses can gain real-time visibility of fleet movements. From a business perspective, on-demand delivery tracking enables logistics stakeholders to know where a shipment is in real time, the exact ETA, whether the delivery will be delayed, the shipment's destination, route diversions and a host of other constraints.
On-demand delivery tracking also helps customers gain live insights into delivery progress. Through automated alerts and notifications customers are constantly informed where their orders are, what's the ETA, and should they anticipate delays.
FarEye's intelligent delivery management platform is empowering hundreds of enterprises across the globe to drive seamless and agile on-demand delivery processes. From ensuring same-day and one hour-delivery, and improving customer experience to making deliveries profitable, FarEye's platform drastically improves every aspect of delivery operations.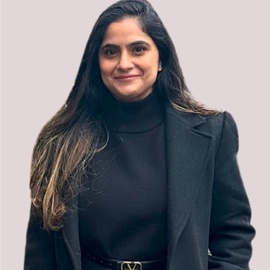 Komal Puri is a seasoned professional in the logistics and supply chain industry. As the Senior Director of Marketing and a subject matter expert at FarEye, she has been instrumental in shaping the industry narrative for the past decade. Her expertise and insights have earned her numerous awards and recognition. Komal's writings reflect her deep understanding of the industry, offering valuable insights and thought leadership.
Komal Puri
Sr. Director of Marketing | FarEye
Related resources
Zalora's Transformation with FarEye for Last-Mile Delivery
Download
Maximizing Black Friday Success: The Critical Role of Scalable and Sustainable Delivery Solutions
Read more
What is Carbon Neutral Shipping? A Comprehensive Guide
Read more