Route
Experience the power of AI-driven insights, precise geocoding, dynamic and constraints-based scheduling, and specialized fleet routing - all on one single platform.
Recognized and Highly rated on Gartner, G2, Capterra.

Solve Key Challenges with FarEye Route
Why Businesses Choose FarEye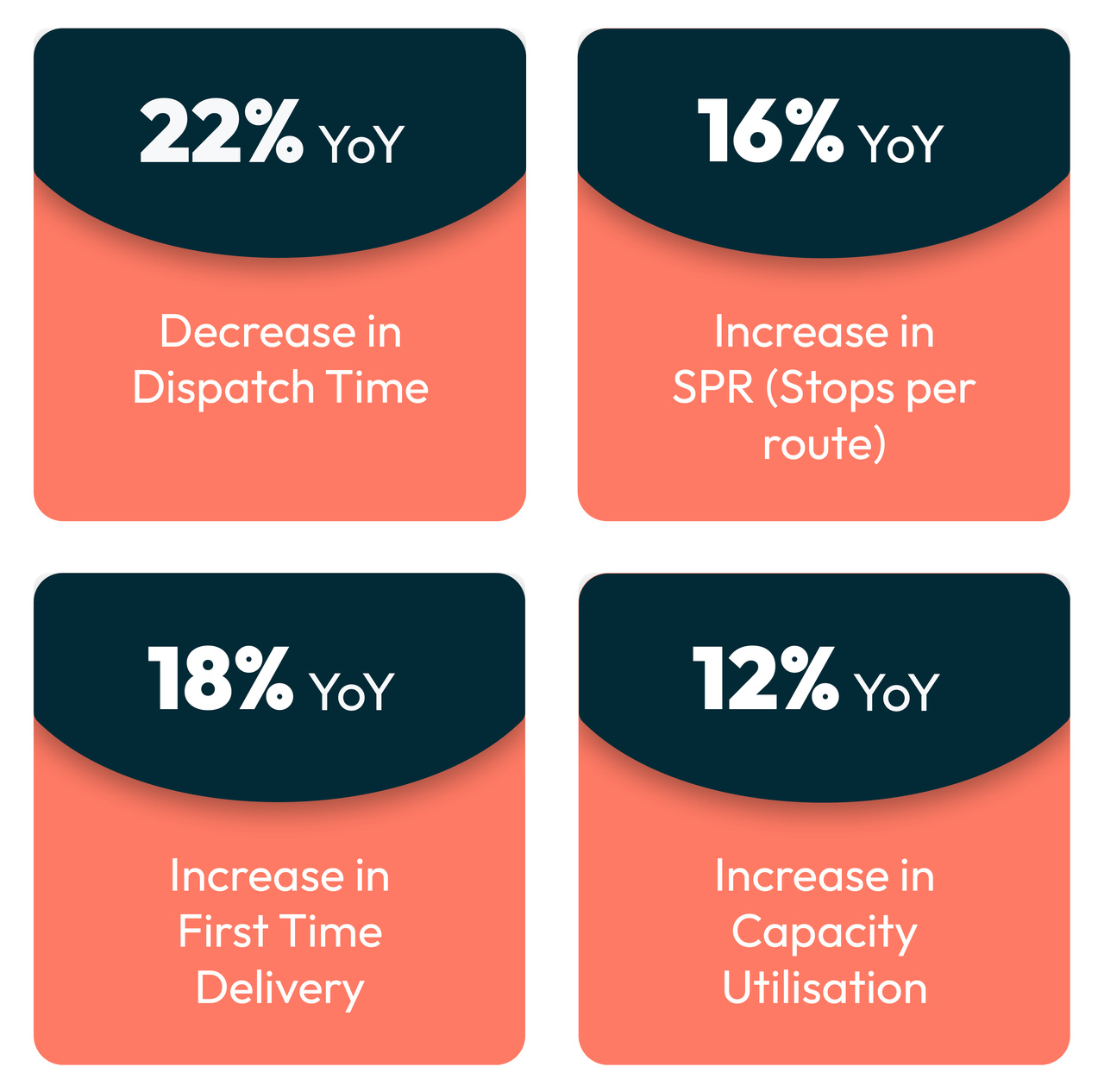 Efficient, Reliable, and Scalable Route Optimization
Real-time dynamic route optimization
Proprietary AI-powered routing algorithm
Delivery efficiency and sustainability
Ensure compliance with transportation regulations
Case Study
Gordon Food Service, USA
Gartner Guide
Recognized 4th time consecutively
Let's Talk
Transform your delivery experience
Customized Routing Solutions, All-in-One Platform
Dynamic Delivery Options for Consumer
Leverage advanced algorithms to provide end users with 95% accuracy in predicting delivery time slots, allowing for flexible deliveries even before the shipment reaches the delivery branch. Meticulously considering all routing constraints ensures efficient and on-time deliveries.
Route Optimization
Optimize large amounts of routing data like traffic, delivery priorities, and vehicle capacities to predict the load of vehicles before delivery is initiated and reduce delivery routes by up to 40%.
Smart Geocoding
Enhance address accuracy with ML and deep data learnings to enable delivery stakeholders to locate customers with precision. This reduces first attempt failures, shrinks fuel consumption and boosts profit margins per delivery
AI Driven Smart Suggest
Utilize AI-driven insights to alter vehicle count, make working time adjustments based on demand patterns, and explore different vehicle types to maximize productivity by 25% and ensure efficient resource utilization.
Real-time Task Allocation
Automate task assignments for drivers in real time, optimizing delivery slots, reducing transit times, and promoting eco-friendly practices. It leads to increased customer satisfaction and enhanced efficiency with streamlined operations.
Optimize Driver Usage & Delivery Times
Analyze traffic, delivery priorities, and vehicle capacities to ensure SLA compliance up to 99.9%. Experience optimized routes for substantial cost savings and meet your sustainability goals.
Green-fleet Routing
Integrate sustainable vehicles like electric vehicles (EVs) and bicycles into your fleet. Our specialized routing considers charging stations, vehicle ranges, and alternative routes.

Book a meeting
The FarEye Impact
On Time In Full Deliveries Achieved
Kilometers saved via Route Optimization
Reduction in Avg. Cost per delivery
Kgs Reduction in GHG Emission Every year What led us to look for a product like FarEye was for us to be efficient at doing last-mile delivery. We needed routing software that would intelligently take a list of addresses and develop the most optimal driving route. By driving the optimal routes, we are decreasing our carbon footprint with fewer emissions, and we're using less fuel.
Al Contreras
Customer Innovation Manager, Gordon Food Service
FarEye's real-time visibility capabilities and last-mile logistics platform have given us the ability to read dynamic market conditions and make more informed decisions on routing orders dynamically to achieve on-time, accurate deliveries, ensuring a positive customer experience with every item purchased.
Dino Araneta
Founder, Chief Strategy & Innovations Officer, QuadX
Trusted by the world's top brands
Dig deeper
How to Buy Last-mile Delivery Technology
2021 Gartner Market Guide for Vehicle Routing, Scheduling and Last-Mile Technologies
How Gordon Food Service made same-day delivery a competitive advantage
Read more