How to manage 3PL performance? Three reasons why your 3PL management approach is not working
Blog
By Komal Puri | October 13, 2022
Third-party logistics (3PLs) has evolved significantly in the past few decades and they are no longer limited to transportation and warehousing. 3PL now encompasses outsourcing everything, right from supply chain management to offering managerial and technological support to budding companies.
Companies use a 3PL provider as it cuts current and future costs, enhances customer satisfaction, reduces risk, and provides global expertise. After selecting a 3PL that meets your organizational requirements, you must also find ways to manage it effectively. However, if you are having issues with 3PL management, here are the three key areas where you could be going wrong.

Practicing good contracting practices follows a balanced approach where the shipper and the 3PL are satisfied with the contractual arrangements. Here are some contract-related issues that may dilute the effectiveness of your 3PL management approach:
Contract Negotiation
Contract negotiation can be intense, and issues may crop up when either party refuses to budge and attempt to hijack the process. Before the drafting of the contract begins, the stakeholders must conduct a face-to-face meeting and decide the terms. Following this, the parties can then work on something that streamlines the process without any roadblocks.
Keeping Contract Length Short
Generally, 3PL contracts last three years, which is not enough. Having longer contracts could indicate your confidence in the 3PL. As a result, 3PLs will be keener on giving your business priority and allocate dedicated resources for you.
Not Defining Payment Schedules
Defining a payment schedule can be tricky at either end. If you commit to paying regularly, you may stop the cash flow. On the other hand, extending payment terms for long durations can result in substandard services. Hence, a good rule of thumb is to keep the payment frequency at 30 days.
Performance Measurement Issues
Different companies have different metrics for measuring performance. Identifying these key performance indicators (KPI) is generally a collaborative process.
Your company may experience problems if the KPIs are not clearly defined in the service level agreement. 3PLs should be made aware of your data collection channels and the formula for performance calculation. Quite often, 3PL software can take charge of this aspect and introduce automation in the processes.
Here are a few category-wise KPI examples:

Cost/Productivity
Total delivered cost, put away time, transportation cost per unit/cube/kg, etc.
Accuracy
Order fulfillment accuracy, billing accuracy, shipment accuracy, etc.
Quality
Damage or Loss
Safety
CSA score, lost time, accidents, internal assessment, etc.
How to Manage 3PL Performance
Depending on the above KPIs, companies can create a scorecard that will help measure performance against the SLA terms, and subsequent penalties/incentives can be defined. This reward and punishment system does a great job of fixing performance measurement issues.
3PL management is all about good governance so that either party feels heard. It ensures consistency, transparency, and flexibility in all operations. Companies may make use of 3PL software, which offers a perfect balance of accountability with independence.
To overcome issues related to governance, companies can define a structure regarding how 3PLs and organizational executives must work together. These channels of interaction must be communicated to the 3PL so that they get an overview of your business structure. Managing special requirements and external concerns according to industry standards must also be worked out through a collaborative technique.
From the above, it becomes clear that reliable 3PL software is potent to take care of several 3PL management issues, ranging from performance management to governance. Employing a 3PL software like GetFarEye allows the partners to focus on the outcomes rather than staying fixated on the transactions. Further, it optimizes the business pricing model to give a fair standing for the shipper and the 3PL.
Most importantly, it establishes a collaborative channel that does away with red-tapism and any other roadblocks and facilitates a seamless flow of data.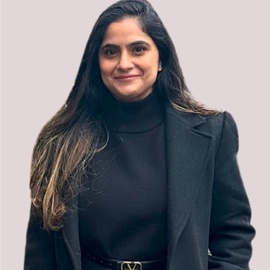 Komal Puri is a seasoned professional in the logistics and supply chain industry. As the Senior Director of Marketing and a subject matter expert at FarEye, she has been instrumental in shaping the industry narrative for the past decade. Her expertise and insights have earned her numerous awards and recognition. Komal's writings reflect her deep understanding of the industry, offering valuable insights and thought leadership.
Komal Puri
Sr. Director of Marketing | FarEye
Related resources
Zalora's Transformation with FarEye for Last-Mile Delivery
Download
Maximizing Black Friday Success: The Critical Role of Scalable and Sustainable Delivery Solutions
Read more
What is Carbon Neutral Shipping? A Comprehensive Guide
Read more