MM Mega Market Vietnam Partners with FarEye To Unveil Cutting-Edge Last-Mile Delivery System
Press releases
By FarEye | October 17, 2023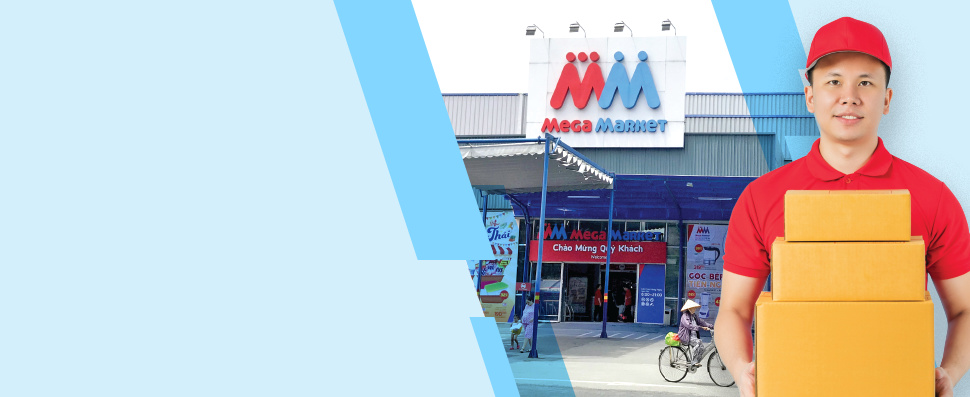 MM Mega Market Vietnam chooses FarEye's platform to Harness AI and Machine Learning for Data-Driven Optimization of Last-Mile Delivery

Ho Chi Minh City, October 18th, 2023 - MM Mega Market Vietnam (MMVN), a leading player in Vietnam's wholesale retail market, has partnered with FarEye to optimize its last-mile delivery operations. MMVN, with a network of 21 hypermarkets, 6 Sourcing platforms, and 8 Depots nationwide, aims to streamline its operations and provide a superior experience to its end customers, especially professional customers.
MMVN wanted to update manual vehicle planning methods, have complete visibility of orders, and track key performance indicators (KPIs) across multiple stakeholders. To achieve this goal, the organization partnered with FarEye – the leading intelligent last-mile delivery management platform to provide efficient solutions that transform the delivery experience into a distinct competitive advantage.
"MMVN's last-mile delivery represents a significant leap forward in meeting and exceeding our customers' expectations. By leveraging technological advancements, focusing on efficiency and speed, optimizing routes, enhancing transparency, and providing flexibility, we have truly revolutionized the delivery process to bring significant benefits to our suppliers and customers." – Mr. Bruno Jousselin – Managing Director of MM Mega Market Vietnam shared.
"MMVN firmly believes that a satisfied customer is a loyal customer, and our last-mile system plays a key role in achieving this goal. We are excited to continue pushing the boundaries of innovation, ensuring our customers enjoy seamless, efficient, and delightful delivery experiences every time." – he added
In the last 2 months, there have been 28 stores, depots, and food service distribution and 20 logistic service providers applying the system with 72.026 trips and 144.662 orders created with some outstanding results:
Enhance customer satisfaction: 89% of customers gave the system 5 stars, and 11% rated it 4 stars with no negative feedback.

Improvement of delivery KPIs: Leveraging advanced AI and machine learning-based algorithms, the system optimizes daily route schedules to minimize delays.

Real-time tracking orders: The system enables real-time tracking of transportation and distribution, providing precise monitoring of time and location. Additionally, it facilitates the collection of customer satisfaction feedback, ensuring transparency and accountability throughout the delivery process.

Improvement of productivity: The teams now are equipped with auto reports, auto billing calculation, and especially auto routing which helps to increase 10 times faster compared with manual routing

Route Optimization: It efficiently plans last-mile routes, maximizing vehicle capacity while minimizing costs.
"MMVN is amongst the first organizations in Vietnam to use a last-mile delivery optimization solution and FarEye is proud to be their chosen partner in this leadership journey. Our mission is to optimize the entire logistics process, and by leveraging advanced technology and data-driven solutions, we are set to transform last-mile delivery operations in the region.
With FarEye's innovative platform, we aim to enhance efficiency, streamline routes, and ensure timely deliveries, ultimately providing an exceptional experience to MM Megamarket's customers. Together, we are shaping the future of last-mile delivery and empowering businesses to thrive in the digital era". - Gautam Kumar, COO & Co-founder FarEye shared
The benefits of the last-mile delivery system extend particularly to MMVN's B2B customers, especially those in the HoReCa (hotel/restaurant /catering) industry. The optimized routing schedules will ensure timely deliveries of fresh produce. By harnessing the valuable data generated by the system, the MMVN team will gain insightful analytics to improve their services and enhance the overall shopping experience for their customers in the future. this transformative approach will reinforce our position as a trusted partner in the B2B landscape, offering unparalleled service and creating enduring value for our esteemed clients.
About FarEye
FarEye is the leading provider of a Delivery Management platform that transforms deliveries into a competitive advantage. Retail, e-commerce, and third-party logistics companies leverage FarEye's unique combination of orchestration, real-time visibility, and branded customer experiences to simplify complex last-mile delivery logistics. With over 150 customers across 30 countries and five global offices, FarEye empowers businesses to increase consumer loyalty and satisfaction, reduce costs, and improve operational efficiencies. FarEye, the First Choice for Last Mile.