Analyze Early Product Access
Analyze delivery operational data, monitor business trends, visualize big data and get timely insights to drive crucial business decisions with FarEye's new Analyze product. Talk to your account manager to gain access to your exclusive 60-day free trial.
Analyze Delivery Performance Data and Achieve Cost-efficiency
Visualize your operational data in easy-to-use dashboards with FarEye Analyze. Measure and monitor key trends, track industry standard KPIs and prioritize opportunities to transform your business using your most valuable asset: your data.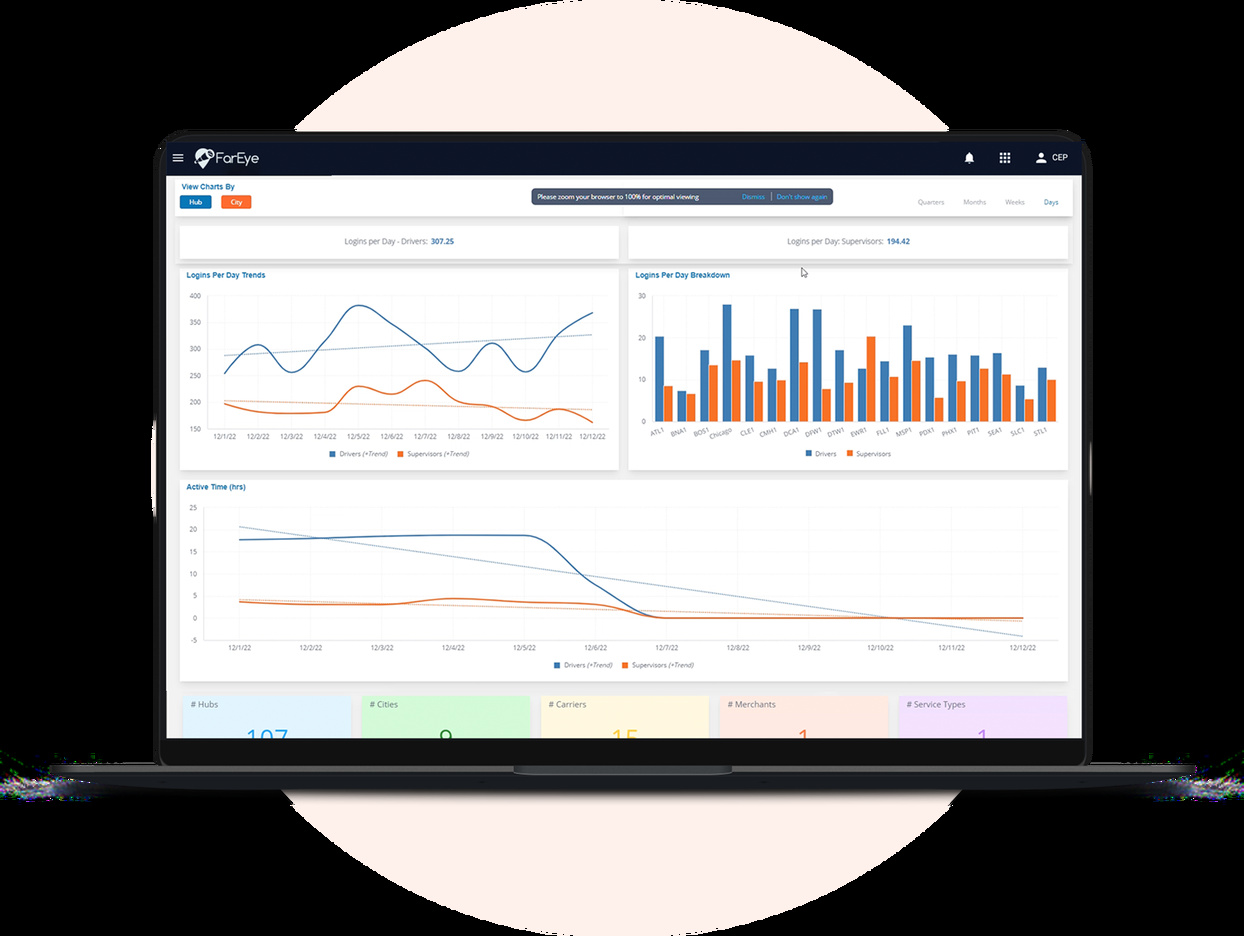 Key Benefits
Single Platform To See & Act
Visualize critical KPIs on dashboards and act on them using the same platform instead of juggling across different platforms for operations and analysis.
Improve Delivery Performance
Visualize shipment trends, monitor and manage delivery and return rates, monitor capacity utilization.
Improve Shipping Performance
Baseline on-time delivery performance, attempts per order and customer satisfaction.
Identify at-risk shipments and deep dive into the root cause to reduce them.
Identify orders that remain unknowingly incomplete for too long and reduce order aging.
Improve productivity of your fleet by monitoring real-time performance.
Improve Dispatch Performance
Visualize planned vs actual orders dispatched and take steps to reduce the gap.
How To Get Access
Step 1
Sign up for the 60-day trial. Speak to your account manager to register your interest.
Step 2
Take a personalized demo. Your Account Manager will schedule a personalized demo of Analyze.
Step 3
Start your trial. Explore all the dashboards and drilldown reports for free.
Analyze Subscriptions
Basic vs Advanced
FarEye Analyze provides two levels of data: basic and advanced. Speak to your account team about how our advanced data offering will enable you to further drill into your delivery data and bring your logistics KPIs into a single view to understand the 'why' behind the data.
| Capability | Basic | Advanced |
| --- | --- | --- |
| Raw data (CSV dump downloads) | Yes | Yes |
| Structured data download | No | Yes |
| Drilldown to find root cause | No | Yes |
| Retrospection tool (all KPIs on one dashboard) | No | Yes |
| Slicing & Filtering on Multiple parameters | Yes | Yes |
| Basic KPIs | Yes | Yes |
| Advanced KPIs (61 KPIs) | No | Yes |
After your 60-day free trial, the Analyze product will still be available for you to use in Basic mode. To upgrade to the Advanced mode, talk to your Account Manager.