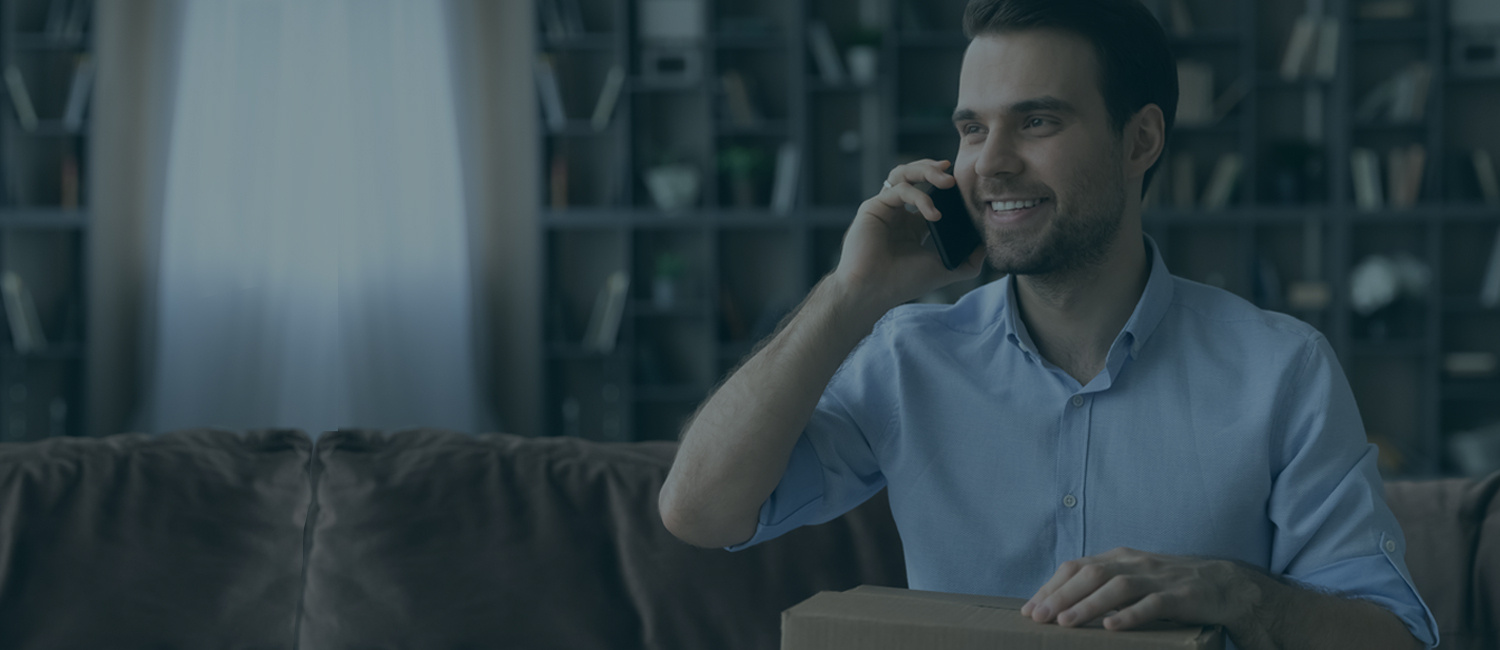 What is returns management? How to optimize returns process
Returns are inevitable, but they don't have to be a headache.
Build brand loyalty that lasts and post-purchase customer experiences worth remembering.
Experience
Returns management is essential for retailers and logistics providers to get right. With an increase in online retail and e-commerce sales, returns are growing faster than ever. The cost of managing returns and reverse logistics is climbing. The National Retail Federation expects the cost of returns in 2023 to hit $816 billion, up $55 billion from 2022's estimate of $761 billion. Optimizing the returns management process is a priority for retailers and carriers. They need to reduce costs and increase efficiency while maintaining a superior consumer experience.

What is returns management?
In retail and e-commerce, returns management is defined as the movement of unwanted or broken goods from an unsatisfied customer back to the seller, where the seller issues a refund, exchange or store credit to the customer.
Retailers can create a smooth returns flow by managing the process, beginning with customer service to assist the customer with information. The flow then moves to physically retrieving the merchandise with logistics carriers who physically move it to the location the seller has designated.
Retailers then have to decide what to do with the returned inventory. Choices include repairing the merchandise if it's damaged, restocking the item, recycling or destroying it. 

Why is returns management important?
With the current trend of increased returns, every retailer and carrier should look to optimize their returns process. When shopping online, 86% of shoppers want an easy returns process and if returns are easy, 92% of shoppers will purchase again with that brand. However, 81% of shoppers say after a bad returns experience, they will switch to a competitor. One bad return can heavily impact a business.


Creating an optimized returns system can have a direct impact on decreasing a company's cost-per-return and it can impact the consumer experience.

How do returns impact retailers?
Returns cost retailers an average of$10 to $20 per return before shipping costs are factored in. According to the Wall Street Journal, for a $50 item, a retailer can pay almost 60% of the sale price when you factor in transportation costs, customer care costs and processing and liquidation costs. 
Making the returns process efficient can have a positive effect on revenue and on customer retention.
What is the returns management process?
The returns management process begins when an unhappy customer initiates a return, contacting the seller asking for a refund, return or an exchange. The process ends when the goods are collected, organized and restocked by the seller and the buyer receives a refund, exchange, or store credit.
Returns Management vs. Reverse Logistics
The terms returns management and reverse logistics are sometimes used interchangeably, however reverse logistics physically moves merchandise back to the seller in a reverse process of how the item was initially delivered. Returns management includes the entire process from initial contact with an unhappy customer to receiving the merchandise and the retailer receiving the merchandise and giving the consumer a refund or exchange.
Last-mile delivery of online purchased goods is considered forward logistics while returns are known as reverse logistics. In reverse logistics, the returned goods are picked up from an agreed upon location, either a home or a facility where they are consolidated, and they are then physically moved to a designated location.
In this process, there are three main areas sellers must consider:
interacting with customer service to begin the process

orchestrating reverse logistics to receive the merchandise

managing the returned merchandise - restock, recycle or disposal
What is the true cost of returns?
The true cost of a return is complicated. For example, the cost of a last-mile delivery on a $100 item may be $5 to $10, with a potential profit of about $10 for the retailer. If that same merchandise is returned, there is zero revenue for the retailer and zero profit and the cost of the reverse logistics to get the item back needs to be factored in also.
The costs incurred in a return must include customer service time, the cost of the reverse logistics plus the cost to the retailer of the return. Does the item need to be cleaned and can it be restocked? If the item is destroyed, the retailer loses the original item, plus any profit while paying for the forward and reverse logistics of the item. It is easy to see why returns need to be optimized and well-managed.
Fifty-seven percent of retailers believe having to deal with returns has a negative impact on their business. Twenty percent of retailers would increase the price of their products in order to cover the costs of processing returns. Understanding the math of returns can help retailers see the impact of them on their overall business.

According to FarEye's 2023 Eye on Last-mile Delivery Report, online returns are a challenge for retailers. Listed below are the top three challenges. 
3 Ways to Improve Your Returns Management Process
Returns are messy and they are not nearly as well orchestrated and optimized as last-mile deliveries. Retailers, e-commerce merchants and logistics providers need to invest in technology to help them create a superior returns process. The best returns management process is one that's easy for consumers to navigate and is cost-effective for the seller.
1. Prevent Returns Initially

While returns are challenging, many retailers have taken strides to try to prevent or reduce them before the consumer has even made a purchase. This is one way to improve the returns management process - by helping to prevent them initially. How can retailers help prevent returns?

Complete product descriptions - Retailers can help consumers by providing sizing charts, descriptions of the fit and cut of clothing, along with 3D visualizations and images of products from all angles. The ability to show a product such as furniture, electronics or appliances in the home through visualization prior to purchase helps consumers become comfortable about their purchase without having physically inspected the product.

Clear Returns Policy - Creating a clear return policy for customers and posting it online in an easily accessible area can help reduce returns by clearly stating what merchandise will be accepted, in what condition, within what time frame and if there will be any costs for the customer. Setting parameters for the process up front will also help avoid extra calls to customer service centers.
2. What is the difference between controllable returns and uncontrollable returns?
Controllable returns are those that might have been prevented if something didn't go wrong with the initial last-mile delivery. A product might be returned because it was damaged due to poor packaging or it may have arrived too late due to a slower than predicted delivery times.

Uncontrollable returns are those that a seller cannot prevent because it all stems from the buyer. The purchased item may not fit or the buyer might not enjoy the color or the buyer has had a change in heart, through no fault of the seller.
Retailers and carriers can study the data to see how controllable returns can be prevented. Taking steps to prevent controllable returns might mean packing the products differently or using a different courier.
They can also take steps to help consumers visualize the product prior to purchasing to reduce uncontrollable returns. Uncontrollable returns can be studied to understand if the products themselves are flawed or not what consumers want. Retailers can also take note of consumers who might be bracketing and purchasing multiples of a product with the intent to return all but one.

3. Provide Returns Visibility
Consumers want visibility into the return of their merchandise just as they wanted the visibility during the last-mile delivery. They want to know the status of their return as well as their refund or store credit. Providing visibility in the return process builds trust with your brand.
How do you manage returns effectively?
Using last-mile technology is key to managing an effective returns process. Ideally, a returns solution offers free, fast, flexible and sustainable returns to customers while retailers would like a returns solution that is resource-light and low-cost. Automating and simplifying the experience for consumers creates new opportunities for retailers to reduce costs and recapture revenue.
When utilizing route orchestration and optimization, trucks carrying less than a full load can be directed to take on returns. Retailers can also use technology to determine which products in their omnichannel offerings can be returned and where the returns need to go. 
Communication between retailers, carriers and consumers can be greatly improved when using visibility technology. Allowing consumers visibility means alerting consumers in real-time when their return is being processed and when their refund will be available. 
Knowledge about the return, its status and allowing consumers more choices about their returns creates a better customer experience. 
Technology solutions improve the returns process by increasing the speed of returns and lowering the associated costs while also maximizing flexibility and reducing environmental impact. Carriers and retailers that adopt reverse logistics technology quickly will gain a competitive advantage through reducing their operational costs while simultaneously creating better returns experiences for their customers.
Providing a superior returns process is a competitive advantage in today's marketplace.

How to Handle E-commerce Returns
Retailers are finding that the growing amount of returns are becoming a challenge.
It is difficult for retailers to manage returns and control the costs associated with them while also providing a superior customer experience. Some companies utilize a forward-logistics delivery platform and a returns management software on separate platforms. Combining both deliveries and returns onto one platform as part of the forward logistics network is both cost-effective and efficient.
Incorporating analytics for better understanding of returns is a simple way for retailers to understand the why of returns. Combining forward and reverse logistics onto one platform helps streamline the process while keeping costs lower. Making the process as frictionless as possible will enable competitive advantages in a retail e-commerce environment where increased market share is hard to come by.

How to Automate the Returns Process Using FarEye
How can FarEye's last-mile delivery platform help automate and manage the returns process? FarEye's Experience product makes returns simple, seamless and flexible through a self-service interface integrated directly into an e-commerce website for a holistic post-purchase experience.
Experience simplifies returns into four easy steps on a branded interface. Customers choose:
What products they want to return for either a full return or a partial one.

The reason for the return.

The method of return, whether in-store, at home or a consolidated returns spot.

How they would like to be refunded.
Experience offers a digital proof of return, provides self service label generation, and helps reduce the amount of calls asking, "Where is my refund?"

It also provides analytics, which are key to helping retailers understand the why behind returned products.

How does FarEye's Experience product help with returns management?
FarEye offers the following capabilities to improve the returns experience while reducing costs.
Returns Management Dashboard
A portal and dashboard for retail operations teams to create return requests, view existing returns and track their progress.
Self-service Page for Consumers
A branded, self-service page for consumers to initiate single or multiple-item returns. This is embedded directly into a retailer's website or mobile app.
API Capabilities
API can initiate returns as well as fetch catalog/order details from retailers. APIs stack can be shared with and communicate between retailer and consumer.
Return Policy Configuration
Retailers can dynamically configure return policies to govern what returns will be allowed based on conditional variables such as SKU, SKU category, etc.
Consumer Pickup Slot Selection
Consumers can select the desired pickup location, date and time.
Drop-off Location Selection
Consumers can elect to drop off the return at a carrier drop-off location or retail store that's most convenient for them.
Label and QR Code Generation
Retailers can generate a QR code that immediately identifies consumer returns at the carrier drop-off location or to the service executive at the door.
Automated Route Planning
For logistics carriers or retailers with their own fleet, reverse logistics software can select the most optimal route, accounting for forward logistics delivery vehicles with available capacity.
Automated Carrier Selection For Pickup
Return pickups from consumers' homes have the best carrier assigned based on retailer criteria for speed, cost, emissions etc.
Doorstep and On-receipt Quality Processing
Quality checks can be done by the service executive upon receipt, enabling faster processing times.
Refund Processing Communication
Quickly inform consumers when their refunds have been processed after they have returned the item.
Upload Picture of Returned Item
Both consumers and drivers can upload an image as proof of the reason they are returning the item.
Embed Into Retail Webpage or Mobile App
Reverse logistics software is often built with I-frame capability and can be embedded directly into a retailer's website or mobile application.