What is real-time visibility? How real-time supply chain visibility transforms traditional logistics practices
Blog
By Komal Puri | October 13, 2022
Anyone who regularly shops online know that the happiness that a 'Your order is out for delivery' message brings knows no bounds! However, more often than not, this message is not enough to help us know the exact whereabouts of our order. This is where the significance of real-time visibility in logistics emerges. The new-age customer needs up-to-date information with the exact location of their order and businesses today have realized the importance of fulfilling this need.
From sending out a single message notifying the customer about their order being out for delivery, to giving real-time live delivery updates, businesses have come a long way! In earlier days, tracking down a fleet to its exact location at all points was impossible. Relying on manual processes and continuous coordination with multiple stakeholders was time-consuming and expensive. But the digital transformation of logistics processes has completely changed the game. Owing to the rapid development of technology and software, we now have tools that allow organizations to have access to real-time visibility of delivery activities taking place on the ground level. All the information can be accessed on a single platform throughout the day, without any hassle, and also keeps all stakeholders up-to-date.

What is real-time visibility?
Real-time visibility essentially means live information that allows you to monitor the route of the goods and their exact location at any given point. It allows you to understand what is actually happening, under what conditions, and the occurrence of any issues. It enables you to rectify the problem by ascertaining the situation and finding the best solution on the spot, in turn saving up on costs.
What is real-time transportation visibility in supply chain and logistics?
Real-time transportation visibility in supply chains and logistics has become a necessity nowadays. It refers to logistic activities that track and trace, in real-time, the movement of goods and packages from the suppliers, manufacturers, warehouses and hubs to the end customer.
Real-time visibility in the supply chain leverages GPS-tracking and sophisticated software to allow businesses to plan, schedule, and monitor their logistics process at all points.
It provides supply officers with access to trackable information in real-time such as order receipts, the status of raw materials, shipping details, regulatory information, and the exact status of the order. Better management of multiple facets of this complex process helps businesses to gain a competitive edge, enhance productivity, increase transparency and customer satisfaction, and also reduce transportation costs.

5 Key Challenges Accompanied By Lack of Real-Time Transportation Visibility in Supply Chain & Logistics
Since real-time transportation visibility capabilities have transformed the way enterprises execute logistics operations, organizations that are not utilizing this new-age technology are facing major challenges. Unable to keep up with their competitors, the lack of real-time visibility of delivery activities lead to inefficiencies in different areas of the business.
1. Customer churn
Customer churn refers to when existing customers cease their relationship with a business organization. It is an important metric for every organization to know the customer churn rate as it affects overall success.
The lack of real-time transportation visibility leads to a higher customer churn rate. This is because modern customers demand end-to-end delivery transparency and will only continue to engage with businesses that fulfill their promise of not only providing timely orders but also delivering accurate information.
2. Inaccurate KPI benchmarking of deliveries
Real-time visibility is a boon for planning, allotment, and tracking of deliveries and also to measure the performance of delivery personnel. It is an imperative KPI to set benchmarks for deliveries in order to understand and prepare for future requirements and to ensure that the delivery process goes on smoothly.
Without real-time visibility and control, inaccuracies would creep in planning and monitoring the supply chain process which would ultimately lead to wastage of resources and loss of revenue. More importantly, it makes managing logistics partners and 3PL providers difficult in the sense that businesses ten to have little or no insights into how often they cause delivery delays, what's their productivity levels, if they are adhering to service-level-agreements and so on.
3. Delayed deliveries
The supply chain is monitored by multiple stakeholders. Lack of real-time visibility leads to confusion and chaos as it is almost impossible for the stakeholders to track down the shipment. Without accurate information about the location of the vehicle, the driver's performance, ETA, and on-ground activities, the delivery of the order is delayed. This not only leads to losses but also affects the reliability of the business in the customers' minds. If the customers experience delayed deliveries, it would just be a matter of time that they would shift to the next best alternative.
4. Increasing overhead costs
Whether it is through reduced fuel consumption or lessening the damage of goods, it is important to keep track of every potential issue in the supply chain that might lead to unnecessary wastages.
Real-time visibility is the only solution that helps managers to stay abreast of all the developments that occur throughout the supply chain. It helps them to know the optimized routes, traffic conditions, and also helps them to monitor the diversions that a driver undertakes. Poor visibility can lead to discrepancies and increases the chances of theft and damaging of goods during transit. The end result is decreased productivity and excessive overhead costs that otherwise can be easily saved upon.
5. Increasing transportation risks
The logistics industry is prey to multiple risks and poor visibility only increases them, especially in areas that aren't well connected. Poor infrastructure, excessive traffic, theft, pilferage and the subsequent risk of accidents and personal injuries to the drivers pose a huge threat to the transportation sector on the whole.
Lack of accurate real-time data and insights about the conditions throughout the route of the delivery can lead to increasing transportation, damage to goods, and delayed deliveries.

Top 4 Key Benefits of Real-time Transportation Visibility in Logistics
Supply chain visibility has become a crucial component for every business organization that seeks to conduct its operations more robustly and with better efficiency. In the world of logistics, it is essential to utilize this technology within your operations in order to survive in the competitive market.
1. Cost-effectiveness
Reducing costs is more often the number one goal for most organizations. Real-time insights about the order's whereabouts throughout the transit stage is an important factor contributing to achieving cost-effectiveness.
Accurate insights and data about inventory, routes, land logistic issues at different points can enable businesses to deal with risks and correct the discrepancies at the right time. This not only enhances productivity levels but also leads to a high return on investment in the long run. In other words, increased visibility eliminates unnecessary route diversions and vehicle idling. It ensures that deliveries are executed by leveraging highly optimized routes that reduce miles traveled. All these factors shrink total-ownership costs of transportation activities.
2. Delightful customer experiences
Consumers today are smarter and more equipped with technology than ever before! They expect faster and better delivery experiences from businesses across different sectors. And since customer satisfaction is the ultimate goal for organizations and is a major competitive differentiator, businesses have realized the importance of making logistics operations customer-centric.
The high expectations from consumers have led to an extremely competitive online delivery marketplace where businesses strive to deliver the products in a shorter span of time and without any delays or mistakes.
Real-time transportation empowers businesses to provide customers with live updates on the delivery progress. It also helps track last-minute changes in customer delivery preferences and quickly addresses the same by changing delivery workflows on the fly.
3. Reduced risks
Insights about every step of the logistics system and the supply chain can enable business owners to minimize the risks. Real-time visibility in the supply chain helps to identify risks and figure out corrective measures before the risk leads to major losses. Mitigating risks at the right time leads to higher productivity, enhanced reliability, more transparency, and high profits in the long run. Advanced delivery management tools make logistics management proactive by leveraging predictive intelligence capabilities.
4. Effective regulatory compliance
In order to run operations smoothly, compliance with government regulations is an absolute necessity. With an array of regulations surrounding road safety, transportation, and environmental protection, it is imperative for businesses to stay up-to-date and manage their operations accordingly. This is even more important for organizations that engage in the export and import of products as the process is even more complex with varying tariffs, regulations, trade rules, and other regulations.
A real-time transportation visibility platform is an excellent tool to ensure that your business is in compliance with all necessary regulations. It also enables you to anticipate new regulations and avoid sanctions or fines.
Data-driven decision-making based on analytics and collaboration is increasingly becoming the preferred way of carrying out delivery operations. Supply chain visibility allows you to leverage such data and insights to take more calculated decisions in line with your business goals.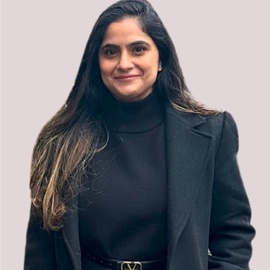 Komal Puri is a seasoned professional in the logistics and supply chain industry. As the Senior Director of Marketing and a subject matter expert at FarEye, she has been instrumental in shaping the industry narrative for the past decade. Her expertise and insights have earned her numerous awards and recognition. Komal's writings reflect her deep understanding of the industry, offering valuable insights and thought leadership.
Komal Puri
Sr. Director of Marketing | FarEye
Related resources
Zalora's Transformation with FarEye for Last-Mile Delivery
Download
Maximizing Black Friday Success: The Critical Role of Scalable and Sustainable Delivery Solutions
Read more
What is Carbon Neutral Shipping? A Comprehensive Guide
Read more