Why 57% of your customers will leave if you fail to deliver on-time
Blog
By Komal Puri | October 13, 2022
According to a survey, 99% of U.S. consumers say 'fast delivery' is important to them when making online purchases. Yet, more consumers feel frustrated with the lack of professionalism and accuracy when having items delivered.

When it comes to e-commerce delivery, customer expectations are continually rising. This creates constant pressure on brands to ensure quick and timely deliveries, as customers are more likely to transact with retailers that offer better customer experience. In fact, up to 61% of shoppers are willing to pay extra for same day delivery, which goes on to prove that customers don't like to be kept waiting.
According to Gartner, customer experience is the major point of differentiation for most businesses. No wonder companies lose 71% of consumers due to poor customer service.
But what constitutes good customer experience in the logistics industry?
Besides transparency and ease of communication, on-time delivery is the most important metric for customer satisfaction in most industries, and rightly so.
For most shoppers, convenient and personalized delivery service is a key factor influencing their online buying decisions. Unfortunately, the number of consumers receiving late deliveries has increased to 78% from 70% in 2017. Of course, companies who can't meet their delivery commitments tend to lose business, with 57% of consumers less likely to purchase from a retailer whose delivery experience was not up to the mark.

Understanding On-Time Delivery (OTD)
While different organizations may measure on-time delivery differently, it can be defined as the number of shipments delivered on time to the customer with respect to the total number of orders shipped. And if this number happens to be low, it can signify potential issues in your supply chain that must be addressed to improve the overall efficiency of your processes, as well as the user experience.
Here's why on-time delivery is crucial for your business:
Prompt deliveries boost customer confidence in your business, leading to repeat purchases and referrals that are crucial to growing your business.
Nothing makes a customer happier than receiving their products on time. Thus, on-time delivery is directly related to high customer satisfaction. It also cultivates the trust of customers in your brand, leading to a loyal user base and more word-of-mouth publicity.
New customers often judge a brand on its punctuality, making on-time delivery an important metric for customer satisfaction. Besides, delivery is also the first interaction between a new customer and a company, and creating a good impression with a professional delivery can open the gates for further transactions.
On-time delivery is a reflection of the state of your supply chain and indicates that all the processes from procurement to storage to manufacturing to logistics are working accurately. Thus, if you are experiencing delayed deliveries, it is time to look into your processes and make changes to ensure an efficient delivery process.
Consistent problems with on-time deliveries can affect your company's reputation adversely while also damaging customer relationships in the process. Did you know that customers who have had a bad experience with a company are 50% more likely to share it on social media than those who had a good experience?
What leads to delayed deliveries?
There are many reasons that can lead to delayed deliveries, including issues in forecasting, bad SOPs, quality delays, etc. However, last mile delivery is often the most challenging part of the process, leading to maximum delays.
Yes, the last mile is often touted as the most inefficient leg of a supply chain but poorly managing it can have a negative impact on your business. However, modern logistics management software can make it easier for businesses to streamline the last mile and deliver smiles, on time, every time! Integrating AI and ML capabilities, advanced logistics software offer dynamic route planning and predictive visibility into your fleet. In addition, such software can optimize the dispatching process, leading to more deliveries per day, thanks to intelligent task allocation. With real-time tracking, it is also possible to provide accurate ETAs to your customers and keep them informed in the case of any delays, leading to better customer experience.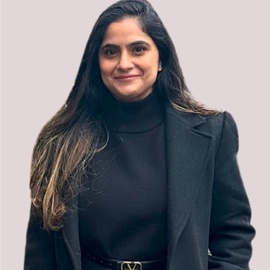 Komal Puri is a seasoned professional in the logistics and supply chain industry. As the Senior Director of Marketing and a subject matter expert at FarEye, she has been instrumental in shaping the industry narrative for the past decade. Her expertise and insights have earned her numerous awards and recognition. Komal's writings reflect her deep understanding of the industry, offering valuable insights and thought leadership.
Komal Puri
Sr. Director of Marketing | FarEye
Related resources
Zalora's Transformation with FarEye for Last-Mile Delivery
Download
Maximizing Black Friday Success: The Critical Role of Scalable and Sustainable Delivery Solutions
Read more
What is Carbon Neutral Shipping? A Comprehensive Guide
Read more