Big & bulky delivery challenges in 2022
Blog
By Komal Puri | October 13, 2022
As online retail continues its impressive growth, consumers and retailers alike are realizing the importance of delivery and its impact on purchase decisions. Retailers with faster, cheaper, more flexible and more sustainable shipping have a competitive advantage.
Getting this competitive advantage is a challenge for retailers of both small and large items. With larger items like furniture and appliances, however, things get a bit trickier. Special equipment like larger trucks, lift gates and dollies may be required. Two-man delivery crews may be needed and oftentimes may need to enter the home to deliver and install purchased items. Because of these additional resources required, providing fast, cheap, flexible and sustainable delivery of Big & Bulky items can be difficult but crucial, as over 35% of furniture sales worldwide are expected to be made online by 2025.
At the risk of losing delivery competitive advantages and a consumer or two, here are a few of the top challenges retailers of Big & Bulky items must overcome in 2022:

Delivery windows for larger, heavier items are typically longer than delivery windows for smaller items. Upon checkout, consumers may be faced with estimated delivery dates ranging from days to weeks in length. Many furniture and appliance retailers do not show consumers a delivery window before checking out, giving them only a deliver-by date. Making matters worse, if the delivery requires delivery personnel to enter a consumer's home, long delivery windows can be tremendously inconvenient as consumers may need to spend an entire day at home waiting for the delivery to arrive. With top retailers such as Amazon offering 2-hour delivery on smaller items from the point of sale, consumer expectations for deliveries (regardless of size) have been reset. Recent supply chain bottlenecks have only compounded this issue, putting pressure on available inventory levels and creating further difficulties for retailers' abilities to accurately estimate delivery windows and give consumers confidence in when their orders will arrive. Retailers can solve this dilemma and provide shorter, more accurate delivery windows through greater adoption of end-to-end visibility solutions that can allow them to be predictive and proactive in their supply chain operations, and communicate status updates with consumers. This is important for consumer satisfaction as 93% of consumers want to stay informed throughout the delivery process and 47% will not order again from a brand with poor delivery visibility. Automated, accurate and transparent communications between retailers and consumers isn't just beneficial to consumers, it can reduce retailer headaches by alleviating pressures on customer service call centers from consumers wondering where their orders are, saving time and money - a win-win.
Once a delivery window is set, estimating the exact time within that window that the order will arrive can be as equally challenging as setting the delivery window. Estimating delivery times for Big & Bulky items can be tricky. When consumers place an order, retailers may not have the large item in stock at a nearby store due to the high inventory costs of large items. Delivery orders may originate from retailer warehouses or even manufacturer factories, far away from the consumer. Delivery speed aside, consumers want to know the status of their order, especially Big & Bulky orders which are generally more expensive. If a package is delayed and consumers are not informed, 70% of shoppers would be less likely to shop with that retailer again. Retailers must provide consumers with visibility into their order and give them status updates. Visibility technology can help retailers achieve this, allowing them to view inventory levels and movement across the supply chain. This can really drive consumer convenience, especially for those waiting around all day to open the door for the in-home delivery crew to install a home-gym machine.
Consumers buying a 60-inch smart TV may think they have found an unbeatable price online and proceed to checkout, credit card in hand. Shortly after, they find that the delivery fee for that TV increases the final price by 20%. This can deter many consumers from ever clicking that 'buy now' button, or worse, ever returning to that retailer. The cost of shipping and delivering bulky items is high because it is resource intensive. There is less space available per truck, two delivery personnel may be needed and installation may be required. These additional costs are passed on to and shouldered by the consumer - cash-strapped retailers don't have a choice. Or do they? Investments in supply chain technology can optimize routing and capacity planning to ensure Big & Bulky items are delivered as efficiently as possible, whether the consumer lives in a rural area miles away from a distribution center or on the busy streets of a large city center. Intelligent routing capabilities can reduce the cost for retailers to ship Big & Bulky items and allow them to pass these cost savings on to consumers. Technology can also allow retailers to tap into carrier networks and gig-fleets, which provide an additional layer of capacity and flexibility that can alleviate shipping costs and drive sales and consumer retention.
On-Site Delivery Experience
Many Big & Bulky deliveries require delivery personnel to enter consumers' homes to deliver, set up or even install items. Many retailers refer to this as "white glove" service, and it can be an important part of the consumer experience. Competent, knowledgeable delivery personnel that represent the retailer brand contribute to a positive consumer experience, an important aspect for Big & Bulky retailers as 96% of consumers claim their consumer experience is an important part to their brand loyalty. Consumers want the convenience of items being brought into their homes and installed if necessary, especially when they live up five flights of stairs. This process must be completed efficiently with minimal time on-site, as consumers prefer delivery personnel not to linger in their homes for extended periods of time and retailers prefer deliveries to be made quickly to maximize the amount of deliveries they can complete over a certain time period. The problem for many Big & Bulky retailers is that they outsource delivery to third parties to gain more flexibility and capacity. This comes at a cost - losing control of the delivery experience. Outsourced delivery personnel may not be dressed appropriately, represent the brand as the retailer would like, or have extensive knowledge about the products that they are delivering. Many outsourced delivery drivers are not equipped with the right tools to complete the job, such as the right sized truck, tools to move large items or the ability to install complex deliveries (an oven, for example). Thankfully, tech-enabled solutions give retailers some control over the 3rd party delivery experience. Retailers can select delivery personnel based on certain criteria and employ worker quality checks, where they can ensure delivery personnel are meeting their standards and representing their brand accurately and positively. With the right technology in place, retailers can seamlessly manage a delivery workforce that enters consumers homes to ensure an excellent delivery experience that gives retailers a leg-up on the competition.
A common practice with Big & Bulky delivery is partial delivery, whereby the delivery of an order arrives in more than one shipment. When a buyer orders goods, all the goods are not shipped at once, rather they are sent to the buyer in parts. This happens when consumers order a furniture set or a TV and sound system, for example. Different parts of the set may be coming from different fulfillment channels, different manufacturers or, perhaps more times than retailers may want to admit, some parts of the whole order may be broken or defective. This requires flexibility and the ability to orchestrate additional moving parts to ensure that large, multi-piece orders arrive at or around the same time. Waiting an extra week to complete a poolside, patio furniture set may be inconvenient for some consumers.
A crucial area where online shipping falls short is the ability for consumers to see, feel, and temporarily experience many of the goods they purchase. Consumer satisfaction is thus compromised when a washing machine purchased online fails to meet expectations. Thankfully for consumers, most retailers offer online returns policies. And consumers are using them. Around 30% of online orders are returned, compared to 9% for items purchased in-store. This is causing major headaches for retailers and their logistics partners, as returns are costly and difficult to orchestrate, especially when returned items are on the larger size. The solution to the online returns conundrum lies in innovative technology and enhanced partnerships between shippers, logistics providers, and tech-enabled platforms. A perfect solution can offer free, fast, flexible, and sustainable returns to consumers and low-cost, resource-light processes for retailers, ensuring both parties are satisfied.
Retailers are increasing supply chain capacity and flexibility by utilizing non-traditional fulfillment centers such as dark stores, curbside pickup, pop-up distribution centers and micro-fulfillment centers. This strategy increases agility for retailers, but also introduces greater complexity. Managing multiple methods of fulfillment and delivery is a challenge. Technology can help retailers overcome these challenges by enabling enhanced route optimization, the use of crowdsourced gig-fleets and greater visibility of product status throughout the delivery process, to name a few.
Increased global focus on sustainability has created incentives for retailers to brand their products and delivery services as having a minimal impact on the environment. Retailers must create more efficient delivery methods that reduce their use of fossil fuels and orchestrate the movement of products from fulfillment center to consumer doorstep with minimal carbon footprint. Electric vehicles, autonomous vehicles and efficient route planning can help to achieve this.
Technology Solves the Problem
Recent advancements in supply chain technology can help Big & Bulky retailers to successfully meet increasing consumer delivery demands. But are they taking advantage of this? Perhaps not. 46% of furniture industry executives say that their delivery technology either needs improvement or needs immediate and significant improvement. Fast, free, flexible and sustainable shipping is possible for Big & Bulky items and is enabled by technology-driven platforms. Route optimization can lead to delivery efficiencies. Digital scheduling and capacity planning tools can allow shippers and carriers to achieve greater fleet utilization. Demand and capacity forecasting allows retailers to ensure they have the people and resources at the right place at the right time. Crowdsourced gig-fleets can give retailers greater flexibility in delivery and extra capacity when they need it. Supply chain visibility is the bow that ties each of these together, giving not only consumers visibility into the status of their delivery, but supply chain managers visibility into the entire delivery process from manufacturer right into consumers' homes.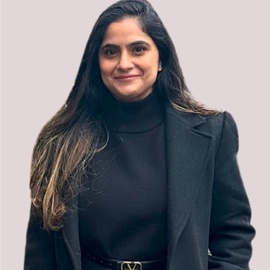 Komal Puri is a seasoned professional in the logistics and supply chain industry. As the Senior Director of Marketing and a subject matter expert at FarEye, she has been instrumental in shaping the industry narrative for the past decade. Her expertise and insights have earned her numerous awards and recognition. Komal's writings reflect her deep understanding of the industry, offering valuable insights and thought leadership.
Komal Puri
Sr. Director of Marketing | FarEye
Related resources
Zalora's Transformation with FarEye for Last-Mile Delivery
Download
Maximizing Black Friday Success: The Critical Role of Scalable and Sustainable Delivery Solutions
Read more
What is Carbon Neutral Shipping? A Comprehensive Guide
Read more