Back to 2020? Global supply chains under pressure... again
Blog
By Komal Puri | October 13, 2022
Why are supply chain issues in the headlines again?
Well, the problems never went away after the initial setbacks in 2020 due to COVID-19. We felt its aftershocks in 2021 and the experts hoped that maybe 2022 would be the year of a slow recovery in the supply chain world.
Enter Russia's Ukraine invasion. And concerns like labor shortages, container availability, long lead times, and high freight rates are making the rounds again.
Russia is the world's largest natural gas and the third-largest producer of crude oil. The war in Ukraine is impacting natural gas and crude oil supplies across the globe leading to high shipping costs.
The sanctions imposed by the EU on Russia are having a direct impact on the transportation and logistics support it provides to the manufacturing hubs in China. Containers that were meant to take the rail route between Western Europe to Eastern China via Russia are now rerouting by sea, resulting in increased costs.
Then there is port congestion adding to global supply chain risks with thousands of Russia-linked shipping containers stranded at Europe's biggest seaport in Rotterdam.
How is China impacting the supply chain snarls?
Adding to supply chain snarls worldwide is China, which is facing its worst COVID outbreak since the beginning of the pandemic. The government's 'Zero COVID policy has seen stringent lockdown measures shutting down factories and disrupting production.
Lockdowns in and around Shanghai, the world's largest electronics manufacturing hub, are beginning to show their impact with Tesla's output slowing down. A Bloomberg report says, Tesla is staring down 40,000 lost EVs due to lockdowns in Shanghai.
Apple's only manufacturing plant in China belongs to Pegatron which assembles close to 20-30% of all iPhones. The Taiwanese company has shut down two of its manufacturing units in Shanghai and Kushan.
Stern isolation and testing rules have led to a shortfall in manpower with not enough truckers to haul containers to and from the ports. Maersk, the Danish shipping company issued an advisory that "several vessels will be omitting Shanghai" due to low container space availability at the Shanghai port.
What the leaders are saying:
Dr. Ngozi Okonjo-Iweala, Director-General World Trade Organization
"It's now clear that the double whammy of the pandemic and the war has disrupted supply chains, increased inflationary pressures, and lowered expectations for output and trade growth. Deeper, more diversified international markets remain our best bet for supply resilience."
International Monetary Fund
"Dismantling global value chains is not the answer—more diversification, not less, improves resilience. Diversification significantly reduces global economic losses in response to supply disruptions."
A report published by Deloitte calls upon organizations to have proper risk management tools that can predict and analyze the dangers within the extended supplier network. It emphasizes the need for 'logistics flexibility in the design of global supply chains.' Supply chain experts want enterprises to use technology to improve traceability in their supply chain network and to establish effective cost management programs to balance inflationary pressures.
"I would see that involving friend-shoring, that we have a group of partners we feel comfortable with our geopolitical—we're not worried about geopolitical issues. I think we get the benefits of continued efficiencies in production by having a group of partners who work to shore up supply chains and make them more resilient."
Janet L. Yellen
U.S. Secretary of the Treasury |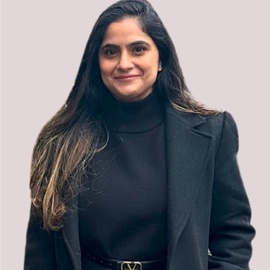 Komal Puri is a seasoned professional in the logistics and supply chain industry. As the Senior Director of Marketing and a subject matter expert at FarEye, she has been instrumental in shaping the industry narrative for the past decade. Her expertise and insights have earned her numerous awards and recognition. Komal's writings reflect her deep understanding of the industry, offering valuable insights and thought leadership.
Komal Puri
Sr. Director of Marketing | FarEye
Related resources
Zalora's Transformation with FarEye for Last-Mile Delivery
Download
Maximizing Black Friday Success: The Critical Role of Scalable and Sustainable Delivery Solutions
Read more
What is Carbon Neutral Shipping? A Comprehensive Guide
Read more