Reverse logistics management: dealing with the increasing problems of managing returns
Blog
By Komal Puri | October 13, 2022
With returns becoming an essential part of the delivery experience, measuring the success of delivery does not stop once a parcel is handed over to a customer. It can be a key parameter for benchmarking on-time deliveries and profits but it does not account for all cases. Fulfillment and returns are two sides of the same coin. Fulfillment ensures products are brought to the market and returns follow the reverse path in the supply chain and bring the product back.
According to research, 30% of all products ordered online are returned as compared to 8.89 percent in brick-and-mortar stores. Also, 92 percent of consumers surveyed said that they will buy again if the product return process is easy.


Reverse Logistics Problems and How to Solve Them
1. Challenges in managing returns
Reverse logistics that includes a customer sending back a product to a manufacturer makes the entire supply chain process more complex. This brings back to life something that in real terms has no value.
In the U.S. alone, Statista highlights that return deliveries will cost $550 billion by 2020, 75.2 percent more than four years prior. Worse, that number doesn't include restocking expenses nor inventory losses. What is more alarming is that as much as 42 percent of customers buy variations of a product with the intent of returning it and 42 percent have returned an online purchase in the last six months. This makes it extremely difficult for online retailers to understand the buying behavior of a particular customer and build processes around it.
Returns put significant pressure on warehouse management. As reverse logistics is unpredictable in nature, it complicates warehousing by making standard handling processes redundant or difficult to implement. This, in turn, leads to rising per-item processing costs.
Cost is one aspect of returns that is extremely difficult to address and it has a significant impact on revenue. The problem with reverse logistics is that the cost incurred cannot be attributed to one fixed cost center, it spreads across the entire organization. In the U.S., revenue that's impacted by returns is estimated between $52 billion and $104 billion.
Understanding why exactly a customer wants a product to be returned is another pain-point that retailers are struggling to eliminate. In most cases, 'defective' is what they get as a reason behind the return. But it's too general a reason and it seldom helps in fixing the issue and reselling the product. What's even more alarming is that businesses do not really understand the financial impact of returns.
A survey highlights that only 42 percent of retailers were able to say that they fully understood the financial impact of returns on their business, while 27 percent admitted that they guess or can't measure it at all.
From a customer's perspective, returns happen to be an extremely sensitive issue. Just like they expect a seamless delivery experience when buying something online, they expect the same for returns. A customer is unhappy with the product that she received in the first place and then if she finds it difficult to get the right product, it will only add salt to the injury. And when it comes to returns, customers can be quite unforgiving and appreciative at the same time.
Research shows that 79 percent of consumers want free return shipping and that as many as 67 percent of shoppers check the returns page before they purchase online. On the bright side, 92 percent of customers say they will buy again if returns are easy.
So, how does an e-commerce business optimize and orchestrate returns? The answer lies in ensuring adequate visibility and control.
Reverse Logistics Management System: Get Visibility and Control in Your Reverse Supply Chain
Visibility and Control
Businesses must ensure end-to-end visibility of forward and reverse delivery processes to manage returns efficiently. Control over logistics processes is a key when it comes to orchestrating returns and without complete visibility, it's impossible to gain control.
Digital Control Tower
Leveraging digital control towers is another important way by which business can improve returns management. A control tower on top of disparate systems can unify data from across all platforms like ERP, TMS, WMS and CRM and convert it into a single pane of glass that can be used by supply chain stakeholders to know every granular detail of forward and reverse logistics. A control tower can be referred to as the single source of truth that's needed to make right and fast decisions.
Digital control towers empower businesses to drill down planning to such an extent that every single order and return can be individually optimized. It also ensures proper collaboration between supply chain stakeholders and that everyone is intimated with the right information at the right time.
Analytics and Machine Learning
Logistics platforms powered by machine learning can crawl through historical data and analyze trends in transactions that include returns. Based on historical information of a customer's buying behavior and a particular product's quality, businesses can be better prepared for returns.
Reverse logistics can no longer be an afterthought. Supply chain stakeholders across industries, especially retail and e-commerce, should carefully study the financial impact of returns and how it can be leveraged to boost customer experience. Advanced reverse logistics platforms coupled with robust returns planning can help businesses get more competitive and profitable.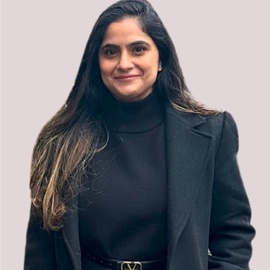 Komal Puri is a seasoned professional in the logistics and supply chain industry. As the Senior Director of Marketing and a subject matter expert at FarEye, she has been instrumental in shaping the industry narrative for the past decade. Her expertise and insights have earned her numerous awards and recognition. Komal's writings reflect her deep understanding of the industry, offering valuable insights and thought leadership.
Komal Puri
Sr. Director of Marketing | FarEye
Related resources
Zalora's Transformation with FarEye for Last-Mile Delivery
Download
Maximizing Black Friday Success: The Critical Role of Scalable and Sustainable Delivery Solutions
Read more
What is Carbon Neutral Shipping? A Comprehensive Guide
Read more